Finance Commissioners Ask Great Questions Regarding Budget Projections and Television Production Studio
January 21, 2021, 11:42 am America/Los_Angeles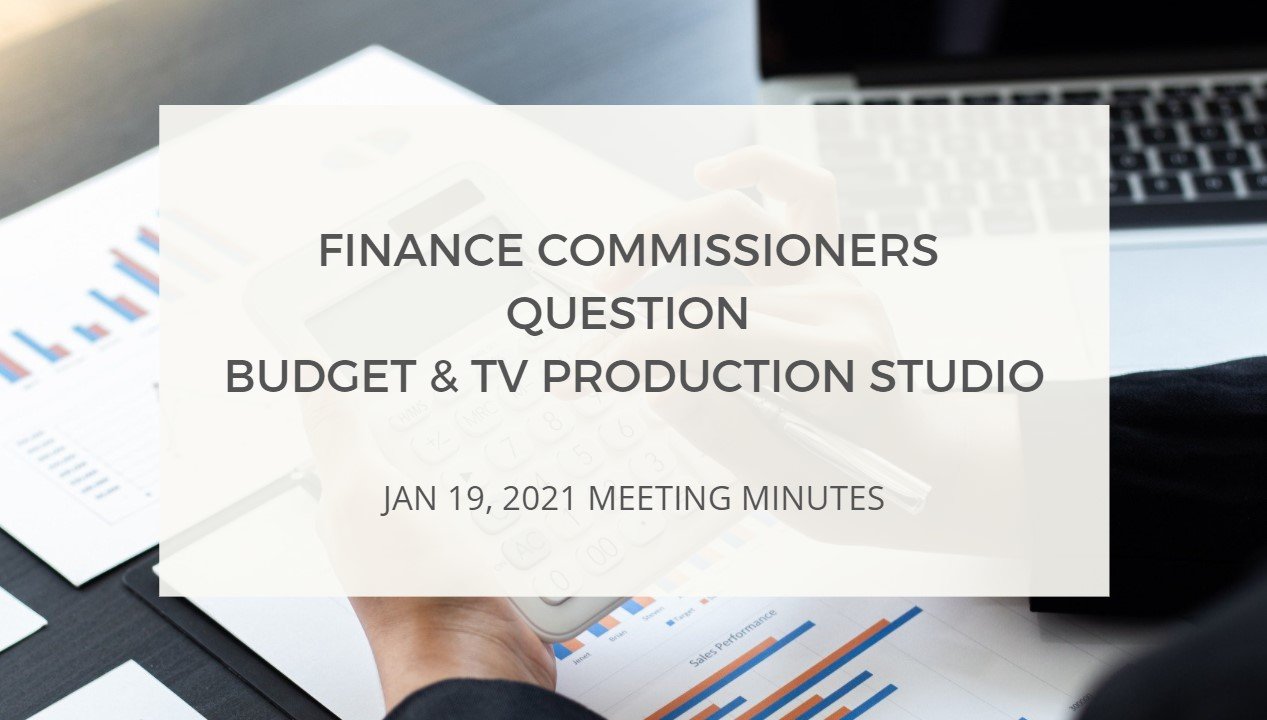 The Finance Committee met on Tuesday, January 19, 2021, and discussed the following agenda items:
Attendees:
Faruk Bhagani (Appointed by Farrah Khan)
Mike Genest (Appointed by Mike Carroll)
Lauren Johnson-Norris (Appointed by Larry Agran)
John Park (Appointed by Anthony Kuo)
Magi Yang (Appointed by Tammy Kim)
SELECTION OF CHAIR AND VICE CHAIR
Selection of Chair: Genest nominated Park, seconded by Yang. Approved 5-0
Selection of Vice Chair: Yang nominated Bhagani, seconded by Park. Approved 5-0
Representative to Investment Committee: There was some confusion and Yang self-nominated with Park nominating Yang right after, which was seconded by Genest. Approved 5-0
MINUTES
There was a little confusion here as Yang wanted clarification on the MacArthur Blvd expansion on the minutes from the December 7, 2020 meeting. However, Park added that this was just the approval of the minutes of the meeting and not a discussion of an agenda item. After some pause, Yang motions to approve the minutes with Genest seconding. Johnson-Norris abstained saying she was not at the meeting. Yang approved saying that she did attend the meeting. Minutes are approved 4-0.
PUBLIC INFORMATION OFFICE PRODUCTION STUDIO
The recommended action to be approved:
Recommend the City Council approve the budget adjustment in the amount of $394,991 from the Public, Educational and Government Access (PEG) fund balance to provide additional funding for the construction of the Public Information Office Production Studio (CIP 362021).
Alex Salazar presented the project joined by Chris Brown (Senior Project Manager) and Tom McDuff (ICTV).

Salazar presented the project with design and the overall estimate of costs. The project was originally approved to be designed and this action item is for additional funding due to a change and update of the design document.

Commissioner questions:
Yang asked about ICTV Membership – McDuff says that the PEG has no Nielsen ratings so they gauge engagement through social media. He says that based upon subject matter posts can rand from a couple hundred to a thousand views, but there's no way to gauge actual numbers.
Yang asked if this system is to be used for council meetings – The two systems are connected and this new system can be used as a backup to the main council meeting. This system is to be used to create and generate new and different kind of content like council shows and videos explaining council objectives.
Yang asked how PEG is funded – PEG is funded by Cox, ATT and a bit by google fiber.
Genest asked if work has been done – Salazar answers that Design is almost done, but nothing else has been spent.
Genest asked why there's such a dramatic cost difference – Salazar answers that the original cost was just an estimate with the final cost being derived after putting together final design.
Genest asked how much is in the PEG fund – Salazar answers that there's about 734k left in the fund. Genest remarks that this increase would use up more than half of the fund.
Bhagani inquires when the decision was made to proceed on the project – There's a little confusion here as they don't really know but Interim City Attorney Marianna Marysheva states that she's been hands on on this project and that Irvine needs the studio and that PEG Funding can't be used for pretty much anything else. The original estimate was the best guess at the time and the difference in the cost was due to the large amount of technology involved.
Bhagani asked if the studio can be leased while it's not in use by the city – Salazar answers that they could but found problems with people using it. Based upon past experience, it would cost more than they would get in return.
Johnson-Norris asked what if the funds aren't used – Marysheva says that they would have to find another similar project to use these funds.
Johnson-Norris asked how often are PEG funds deposited – Salazar estimates about 600k a year, deposited quarterly but it's a moving target.
Johnson-Norris asked about other uses – McDuff says that PEG funds have been used to redo council chambers twice, updating the cameras and audio system in the chamber. He says that the biggest caveat to PEG funding is that is has to be broadcast related.
Johnson-Norris asked if funds can be used on a vehicle to go out to the city to report on events, and equipment supporting that – McDuff affirms that it could be used on that.
Johnson-Norris asked if the plan could be modified to not include as many projects – McDuff says that the Studio is cost effective to accomplish what they need to do. Budget is half construction and half tech. They're already at the bare bones of the project and that cutting any money out of the plan will make the project useless.  There's no way to scale it down in significant manner without jeopardizing project
Johnson-Norris asked a couple more follow-up question about funding and points out how other cities (like Austin, TX) use their studios. She points out that in these new times with social media, the City shouldn't be focusing on this and that it's not of significant public use. Marysheva responded saying that when the project was approved, we were in the pre-COVID world. They are looking at all their projects like the water polo facility and seeing if that goes on pause. She acknowledges that maybe they need to look at other cities to see what can be done. Marysheva asks to table this proposal. Park indicated he had a few questions but withdrew since the issue was tabled.
ASSUMPTIONS, BASELINE PROJECTIONS AND PRELIMINARY BALANCING MEASURES FOR FISCAL YEAR 2021-23 TWO-YEAR BUDGET AND FISCAL YEAR 2021-26 FIVE-YEAR PLAN
The recommended action to be approved:
Receive and provide input on the assumptions, resulting baseline projections and preliminary balancing measures for the Fiscal Year 2021-23 Two-Year Budget and Fiscal Year 2021-26 Five-Year Financial Plan; for the City's key funds including the General Fund, the Building & Safety Fund, and Orange County Great Park Funds.
Marysheva starts the presentation stating that Irvine operates on a 2 year budget in the context of a 5 year financial plan. Deputy Director, Financial Management and Strategic Planning, Barbara Arenado went over the City Priorities, the Budget Balancing Principles and gives context for the following projects:

Vaccine in the middle of 2021 with still strong housing demand and gradual business reopening returning to normal within a year.
Property value and sales continue to grow
Hotel tax recovering slowly
Recreation programs are expected to rebound quickly
Salaries and benefits for staff continue to increase
Contracted services continue to cost more
City commitments like the Barclay Theatre and school support

Marysheva goes over the Balanced Budget and General Fund Reserve Policy as well as the General Fund Baseline Projections. She indicated some preliminary measures based upon the Irvine Balancing Principles to help offset the incoming budget deficit. Amy Roblyer then went into more detail on the General Fund Baseline Projections for the following:

Fee revenue and expenses for permitting
Fund has a negative balance
12 years without a fee increase
Decreasing volume due to COVID-19
2019 fee increase insufficient
Costs have been cut by over $1 million over the last two years
Revenues expected to recover in 2021 and then projected to decline as the City approaches build out
Evaluating other balancing options for next budget cycle including possible fee increase

OCGP Management Analyst, Steve Torelli talked about the Great Park Funds
The Great Park Fund is different from the General Fund. The Great Park Fund prevents our General Fund from being used on Great Park development projects. CFD* (Community Facilities District) provides the bulk of funding for the Great Park Funds.
*The Irvine City Council is the legislative body of the Community Facilities District (CFD). The intent of the CFD agreement between the City and Fivepoint is for the CFDs to fund backbone infrastructure in the GP and GP neighborhoods. The CFD's fund major projects so there is no financial obligation for the City and therefore no impact on the City's General Fund. The CFD was formed by the City and the developer Fivepoint in March 2013 to "levy special taxes and CFD bond proceeds to finance infrastructure benefiting the Great Park neighborhoods and the Orange County Great Park", with the intent to finance infrastructure and public facilities representing significant public benefit. For more info click here.
Commissioner Questions:
Genest asked how much of the overall city budget is employee staff costs
Marysheva guessed about 75-85% as we use contract labor a lot.
Arenado clarified the number to 65%-68% each year. Employee staff labor, benefits.
Marysheva pointed out that Irvine is a service city, other cities are a higher percentage of staff costs and that Irvine does the best that we can.

Genest asked about freeze on hiring, on raises or other costs.

Marysheva confirmed the freeze on hiring. She points out that it's a policy to not do layoffs and that every single layoff will provide less services, etc.
Marysheva pointed out that Irvine renegotiates contracts all the time.
Every single department has to show how to spend on overtime
The two departments that have the most overtime are:

Public Works – if there's a road issue or something breaks, we fix things right away
Public Safety – we make sure that we have adequate coverage

Raises – Cost of living spelled out on labor union agreements. Merit raises are done when movement between positions
Right before COVID-19, Irvine negotiated a 4-year contract with the union, with only a 1% per year Cost of Living increase which is unheard of. She's thankful to the partnership they have with the contractors.

Yang asked about fee items in one of the charts, "Charge fees for special services as appropriate"

Marysheva says those have to deal with certain applications like water quality and such and that fund is what they charge the time to. Things like drone pilots when there was a fire, those are paid out of the bucket.

Johnson-Norris stated she likes the current budget policies and proposes a new policy, a budget equity policy. A tool on how services are distributed equitably and equally among all residents. Measuring the community engagement to see how the service is succeeding.
Yang asked for clarification that the accepting the recommended action does not indicate support of the fee increase. (It does not)
Bhagani made a motion to accept the staff recommendation, Genest seconds. Motion carries 5-0.
Park welcomed all new commissioners and extended thanks to the staff for all their hard work. Park asks to adjourn. Bhagani accepts, Yang seconds.