In Response To Public Demand Hot Food Concessions Are Coming To Great Park Sports Stadiums
March 20, 2021, 8:08 am America/Los_Angeles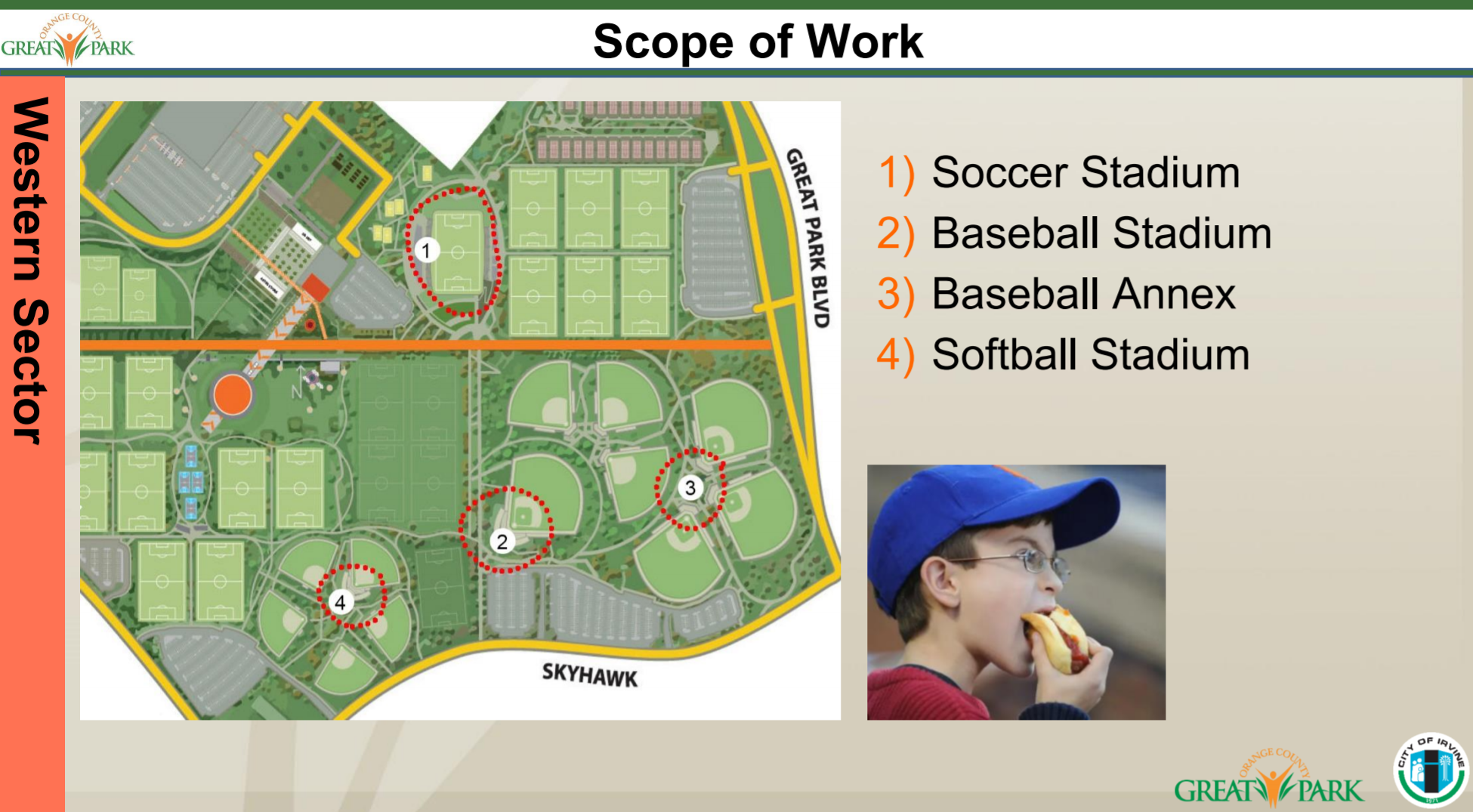 Great Park Development Project Reports (Report) are provided during the monthly Great Park Board meetings in order to provide the public with the opportunity to participate in the planning of the Great Park. This month's Report concerns upgrades to both the Sports Stadium food concessions and Hangar 244, which contains exhibits which tell the story of the Great Park from its agricultural roots through its role as the El Toro Marine Corps base.
This month's Report, however, does not provide updates on the other development projects located throughout the Great Park.  The community is curious to know what effect the pandemic has had on the various Great Park development plans that have been addressed by past Great Park Project Reports.
 Sports Stadium Concession Upgrades
Food concession stands will be upgraded to supply hot food at the Soccer Stadium, Soft Ball Stadium in phase 1 of the project which is currently funded by a $1 million Capital Improvement Project (CIP) Grant.  Phase 2 of the project will supply the hot food concession stand upgrades at the Baseball Stadium and the Baseball Annex/Auxiliary Building which will be funded by a proposed $1 million CIP grant with the project projected to take place between 2021 and 2023. The project upgrades will include providing fully enclosed kitchen facilities to meet OC Health requirements and employee lockers.
Hangar 244 Upgrades
Hangar 244 upgrades consist of repairing and polishing the concrete flooring and upgrading the hallway flooring.
The next Great Park Board meeting is on March 23, 2021 at 2:00PM. For information on how to participate in the meeting click here.