IUSD Reaffirms Commitment To School Safety During June Board of Education Meeting
July 23, 2022, 3:07 pm America/Los_Angeles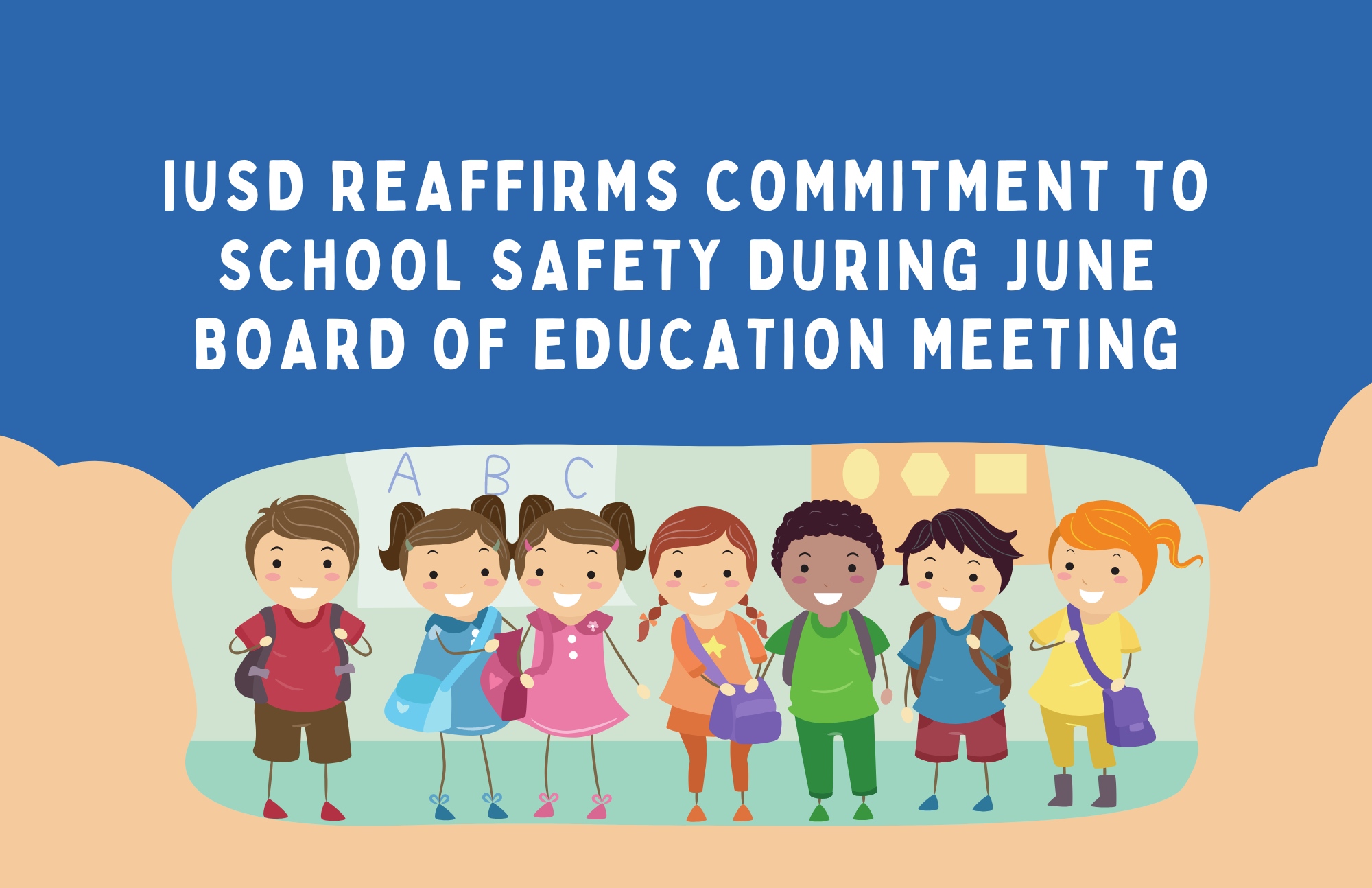 During the June 7th Board of Education Meeting, a special presentation was made on School Safety and Mental Health and Wellness, for which Irvine Unified School District (IUSD) strategies are "Gold Standards." Humility was on display by IUSD Leadership in recognizing there is always room for improvement. Stephen Bayne (Director of IUSD Risk Management & Safety and former Police Officer), Tammy Blakely (Executive Director of Student Support Services), and Sergeant Tim Petropulos (Irvine Police Department Youth Services Supervisor) presented on the following topics:
IUSD's Safety Preparedness Efforts,
Safety initiatives are underway and planned for the future,
Working together to address mental health and wellness for students,
The role of Irvine Police Youth Services in campus safety
IUSD's Safety Preparedness Efforts entail ongoing collaboration with IPD, Orange County Sheriff, First Responders, Security experts, and mental health professionals.
Since 2015, IUSD has invested more than $2.67 million in camera surveillance systems (p. 11), more than $2.55 million in access control systems to secure doors and entry points on campuses (p.13), and over $557K in two-way radios (p. 13) enabling instantaneous communication between the school site, IPD, and District Administration.
The Youth Services program plays a fundamental role in campus safety by establishing positive relationships between students and Police. School Resource Officers (SRO) are present at High School Campuses and Middle School campuses on a rotating basis. Per Sergeant Petropulos, the School Resource Officer is responsible for maintaining a safe learning environment by showing high visibility on campus, enforcing the law, inspecting school property, investigating crimes and incidents related to their assigned schools, counseling students' families, and providing resources.
The Drug Abuse Resistance Education (DARE) program fulfills the same role as Resource Officers but is specific to elementary campuses. While many Police Departments and Districts have cut back on investments into programs such as DARE, IUSD and IPD continue to renew their commitment to it. According to Sergeant Petropulos, IPD's DARE program is the only remaining in Orange County. In addition, the relationships built through these programs contribute to trust in Irvine Police amongst students and families.
IUSD Superintendent Terry Walker reiterated the importance of continued investment in mental health and wellness. Tammy Blakely spoke about working together for students by addressing the "whole child" (p. 20). Ms. Blakely introduced the Tiered Intervention Approach IUSD employs on campuses (p. 21). According to Ms. Blakely, the data from the "Thought Exchange" section of the Annual Survey revealed areas of the highest importance: 1. Mental Health/Social Emotional Wellbeing, 2. Staff Support, 3. Student Learning. Mr. Walker shared that IUSD's partnerships with community organizations are essential to addressing these.
Through IUSD's partnership with Irvine Public Schools Foundation (IPSF), an additional $1.725 million investment has been put towards increasing the number of Resource Counselors available on its campuses. In addition, Mr. Walker announced a much-anticipated partnership with Children's Hospital of Orange County (CHOC), made possible by contributions from the Tsao Family Foundation. This partnership will enable IUSD to build Wellness Centers (Well Spaces) on selected IUSD campuses.
According to IUSD's School Plan for Student Achievement Data, IUSD invested the following in mental health and wellness during the 2021-2022 school year:
$4.736M in Student Mental Health and Social Emotional Learning Services (p.37)
$404,000 for Positive Student Behavior Programs and Services (p. 84)
$4.003M in Direct Site Support Funding for Resources and Staff Support (p. 66)
As part of the commitment, IUSD maintains a robust IUSD Mental Health and Wellness Page.
IUSD and IPD are committed to a productive partnership for the safety and well-being of all our students. A replay of the School Safety Presentation of the IUSD Board of Education meeting can be found here at the 4-minute 27-second mark.