Recap: Great Park Board Meeting 12/10/19
December 15, 2019, 1:51 pm America/Los_Angeles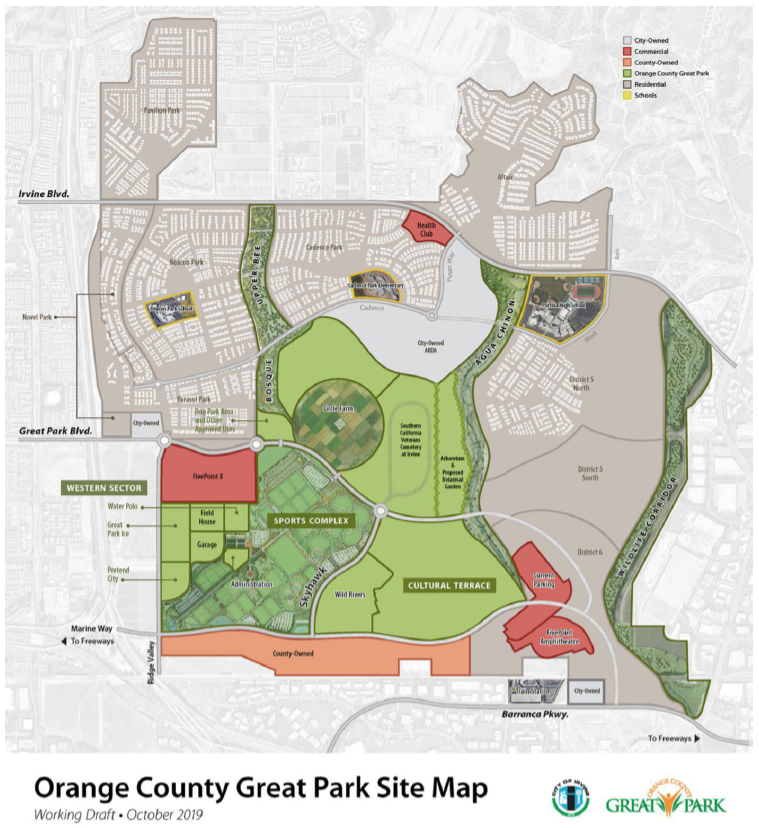 The Orange County Great Park Board held a special meeting on Tuesday, December 10, 2019. Two projects were unanimously approved:
Pretend City Children's Museum
The Board approved a three-year pre-development agreement with the Children's Museum. Upon satisfactory completion of the pre-development agreement, the city will enter into a ground lease with Pretend City Children's museum to be located on approximately 5+ acres in the Western Sector of the Great Park.  Pretend City is responsible for all planning, construction, operations, maintenance and capital costs. Pretend City estimates the project will cost about $30 million and take 24 months to complete. The ground lease is for an annual rent of $1 for a maximum of 55 years.
Site map

Great Park Sports Park Maintenance Facility
The Board approved a letter of agreement with FivePoint for the design and construction of a 23,000 square foot maintenance facility to be located by the intersection of Marine Way and Skyhawk. The total project cost will not exceed $5,175,000. The cost will be shared by the city ($3,675,000 from an approved FY 2016-17 budget allocation) and FivePoint ($1,500,000). The facility will be built according to the city's specifications and used by the city for maintenance support services for the OC Great Park Sports Park and other adjacent park amenities.
GP Maintenance

The next Great Park Board meeting is January 22, 2020, in the City Council Chambers.