Agenda-Setting "Rule of 2" Policy To Become Even More Restrictive Under Tammy Kim's Proposal
June 27, 2022, 7:00 am America/Los_Angeles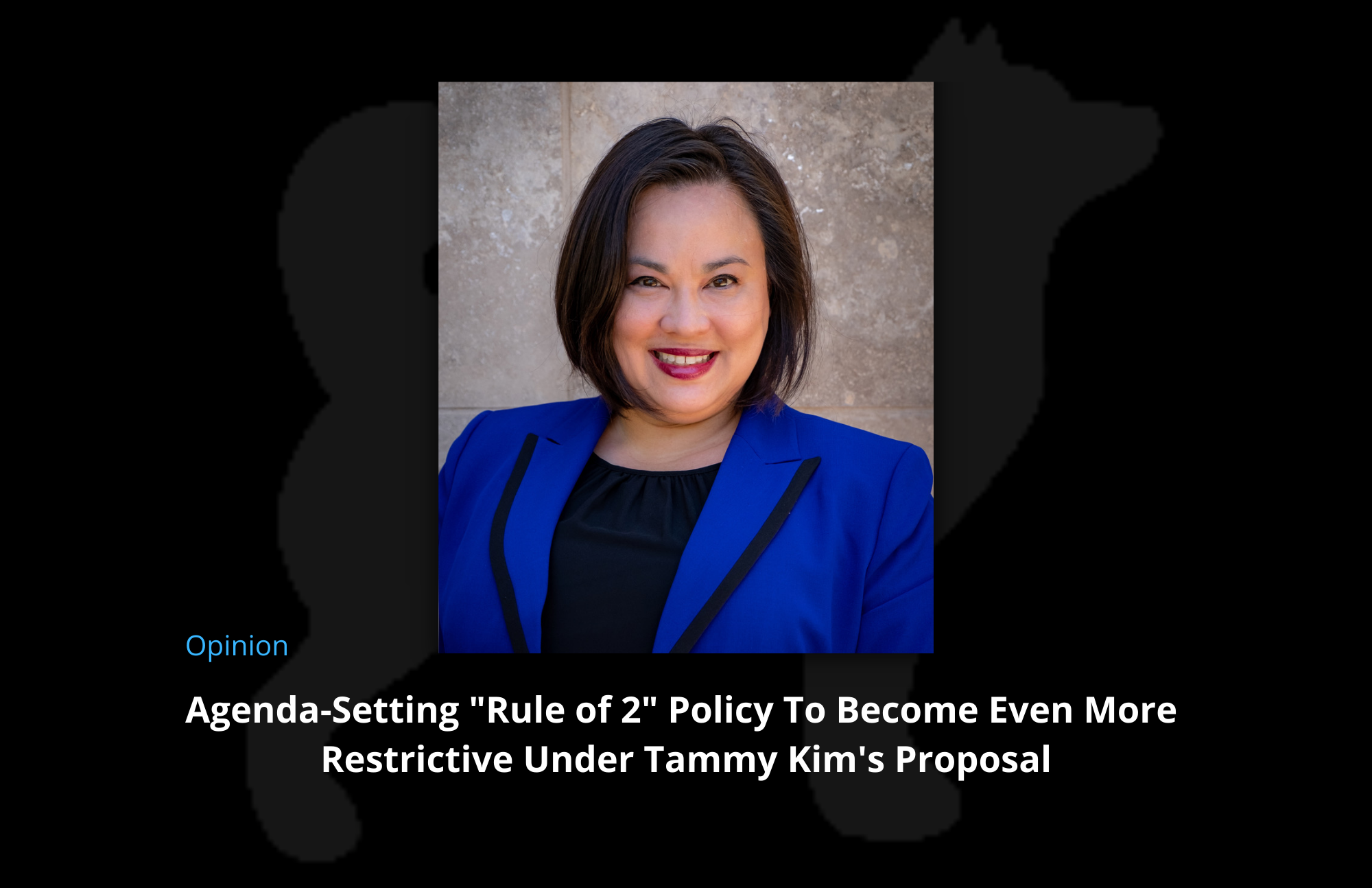 Don't be fooled by Irvine Councilmember Tammy Kim's proposed change to the "Rule of Two", the policy that requires at least one other councilmember to second a proposed item in order for it to be placed on the city agenda. It is no secret that councilmembers Tammy Kim, Mike Carroll, Anthony Kuo and Mayor Farrah Khan have used the agenda-setting policy to silence their foe, Councilmember Larry Agran, and prevent him from initiating changes for the city. However, public outrage over the anti-democratic nature of this policy has gained traction.
At first glance, it appears next Tuesday's Item 3.4 (proposed revisions to the "Rule of Two"), is a response to the rule's growing unpopularity. However, it is not. The proposed revision, using convoluted language, merely reaffirms the policy.
3.4

The proposed revisions are as follows:
First Clause Creates a "Rule of 3"
i. Any Councilmember may place items on the agenda for discussion under Council Business. Following the discussion of such items, the Council may by majority vote direct that the item be placed on a subsequent agenda for action. [emphasis added]
The first clause allows any individual councilmember to place an item only for discussion under Council Business without a second. However, in order to take action on that item, the lone Councilmember must receive a majority vote just to place it on the next meeting's agenda to be voted on. Meaning, if the full Council and Mayor are in attendance, then there must be at least three votes before the item can be placed on a later agenda for action.
Given the makeup of the current Council, it's reasonable to expect the same cadre of Councilmembers to provide lip service to Agran, with no intention of ever giving him the three votes to set the item for action. Kim will claim she is doing a service for Agran by allowing him to speak for a few brief minutes, late at night, before ultimately not supporting him as she has done so often in the past (city business typically occurs at the very end of meetings). But this clause does not get rid of the "Rule of 2". It actually creates a "Rule of 3".
Subsection One Prevents an Item from Being Re-agendized for Six Months
Councilmembers may not re-agendize the same or substantially similar item for a minimum of six months, unless the request receives the support of at least one other Councilmember.
Subsection "1" to the first clause introduces a new anti-democratic hurdle by preventing an individual councilmember from re-agendizing a similar item for six months. This issue preclusion seems unnecessary and an effort to silence a minority voice from trying to bring light to developing topics. It's not uncommon for an item to be brought up, but not ripe for action yet. If events make this item ripe or action on this item becomes more urgent, this subsection kills the item.
Second Clause Reaffirms "Rule of 2"
ii. Two or more Councilmembers may place items on the agenda for discussion and/or action, under the agenda heading deemed appropriate by the City Manager. (same as the current policy)
The second clause is the "Rule of 2" in very plain language. There you have it, Kim reaffirms "the Rule of 2". Since the first clause is essentially a "Rule of 3", this will remain the predominant hurdle for any minority voice on the Council from ever being able to initiate a policy change in Irvine.
Third Clause Adds Nothing New
iii. Councilmember-initiated agenda requests shall be presented in a memorandum to the City Manager, with a copy to the Mayor and City Council, no later than noon, seven days prior to the next scheduled City Council meeting.
The third clause simply states when individual councilmember requests should be made and does nothing to eliminate the "Rule of 2" or "Rule of 3".
What's the Purpose of this "Revision"?
So what is the purpose of this "revision" to Irvine's agenda setting policy? My hunch is Councilmember Kim is bringing this forward to give the appearance that she is taking action against a very undemocratic policy which she has used against her fellow Democrat Councilmember many times over.
However, in effect, it does more to silence dissenting voices than the current policy already does.
Why not eliminate the "Rule of 2" completely, like the vast majority of other cities in Orange County? If this revision is passed, this council will attempt to move on from their unpopular stance on the "Rule of 2" and hope Irvine residents don't pay attention to the details. As Irvine residents, we have a duty to pay attention, and call them out on their chicanery.