Huntington Beach Votes Yes, Lake Forest Will Vote Later, Santa Ana Says "No Rush" on Key Climate Program  
February 8, 2021, 9:01 am America/Los_Angeles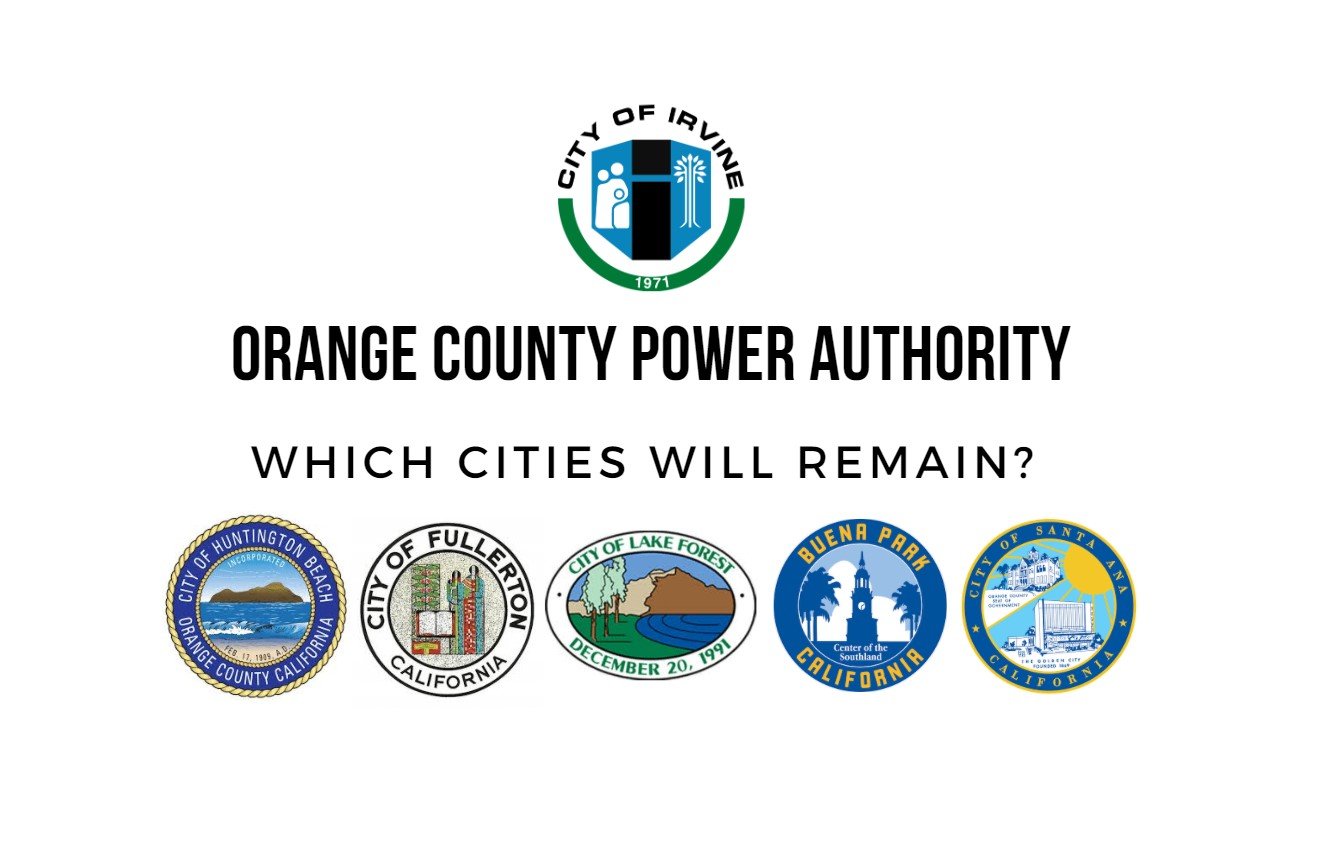 Three cities discussed whether to participate in the new, not-for-profit Orange County Power Authority last week with mixed results.
HUNTINGTON BEACH
The Huntington Beach City Council on Monday, February 1, voted to stay in the new, not-for-profit Orange County Power Authority (OCPA), which promises to bring competition, clean energy, and local control to the OC electricity market, currently dominated by monopoly SoCal Edison.
HB's vote is good news for residents, who should save up to $200 per year with OCPA, according to HB City Manager Oliver Chi. Chi mentioned the savings estimate during his presentation on the results of a Community Choice Energy/OCPA feasibility study commissioned by Huntington Beach.
The Daily Pilot's article on the HB vote says, "Electricity cost savings in the OCPA are expected to be smaller in the first 2 to 3 years of operation but grow over time, with a range of 1 to 3 cents per kilowatt-hour less than Edison."
HB Councilman Posey mentioned during the meeting that he and Chi have had promising meetings with several of the city's top users of energy to secure them as OCPA customers.
LAKE FOREST
In Lake Forest Tuesday, February 2, the City Council considered whether to stay in the OCPA, which they joined in December pending further analysis with an eye toward a March 1 deadline to opt out without penalty. That deadline has since been extended to April 1.  
One of the Council's chief concerns raised during discussion was OCPA board governance, specifically Irvine's outsized representation on the OCPA board.  
OCPA's governing agreement states that Irvine, which has agreed to provide millions of dollars in collateral and financing of start-up costs required to launch the program, will have an extra seat on the OCPA board until initial costs are repaid.  Irvine will be repaid with revenue from customer charges for electrical services during the first years of the program.
Lake Forest Councilmembers also raised concerns regarding can request a weighted vote in board decisions based on cities' total annual energy. 
The table above shows projected residential cost savings for Lake Forest residents with OC Power Authority. Figures are based on MRW & Associates' feasibility study presented to the City of Huntington Beach on Feb. 1, 2021. Assumes MRW's most conservative OCPA vs SCE savings projection of $.01/kWh; 29,338 Lake Forest households; California average household usage of ~7,200 kWh/year.  Savings should be the same for other cities.
Lake Forest's Council did not discuss whether or how much they would be willing to contribute toward OCPA start-up costs. In past meetings, Councilmembers have expressed concerns over the costs of joining or creating a Community Choice Energy (CCE). Councilmember Neeki Moatazedi criticized CCE, previously describing it as a "bureaucracy" and has promised to vote it down as long as Irvine has load-total voting.
The City of Irvine is unlikely to budget on changing the OCPA voting policy. In the event of a conflicting decision on the OCPA, the representing cities would then vote based on their share of the total electricity demand. However, climate activists argue that Moatazedi has a conflict of interest, being a Regulatory Affairs Manager with the SoCal Gas Company, the primary provider of fossil gas to Southern California.
SoCal Gas has a history of undermining environmental protections and has previously been involved in controversy when a gas leak from the underground Aliso Canyon gas storage started releasing methane into the atmosphere in October 2015. The 91,100 tons of methane and 7,3000 tons of ethane leaked had an impact of 7 million cars of greenhouse gases and increased the methane amount in the atmosphere by 0.002%.
The Lake Forest Council listened to an hour of public comments from 37 residents who left voicemails on the topic, with 31 comments in support and 6 residents opposed. The flurry of 3-minute public comments at the Lake Forest City Council meeting was organized by youth climate activists from the Sunrise Movement and other climate organizations.
The UCI, Orange County, and Los Angeles chapters of the Sunrise Movement published a webpage with clear instructions on how to leave a public comment voicemail. "We need to be clear and concise to the youth movement. We need to be creating visible public pressure to make change", says Kyler Chin, an organizer for Sunrise Movement since early 2020.
Sunrise Movement, an intersectional climate justice organization, says the push for clean energy is a larger part to transform the economy away from fossil fuels in the Green New Deal. According to Chin, the protests and direct actions will scale up and move into the physical world to meet the challenges of the climate crisis. 
Ultimately, the Council voted to hold a special meeting Feb. 12 to discuss whether to stay in the program if they do not receive written confirmation from the OCPA board that they have until April 1 to withdraw without penalty. 
On February 16, the Lake Forest Council is expected to discuss the results of a CCE feasibility study commissioned by the city with MRW & Associates, the same company that created the City of Huntington Beach's favorable feasibility study.  
Read Voice of OC's article for more on the Tuesday Lake Forest discussion.  
SANTA ANA
The City of Santa Ana also considered Community Choice Energy (CCE) on Tuesday night, with a staff presentation that included a host of factual errors regarding the financial stability and credit ratings of existing CCEs in California, downplayed benefits to renters and owners of smaller homes, misrepresented opt-out fees and said there was no urgency on the issue.   
Santa Ana first considered CCE in 2007 and says it began monitoring it again in 2018.   
Residents who came to the meeting expecting a full report were disappointed with the presentation, which consisted of several slides created by city staff and no independent analysis or pro forma results. 
Santa Ana resident and CCE advocate Tristan Miller commented on the presentation saying, "Climate change is real, and CCE is our best to address it locally.  It's a great way to save residents money on their utility bills every month, and brings revenue to our community by keeping ratepayer dollars in our city for our city.  It has the potential to generate tens of millions in revenue for Santa Ana."
Councilmembers commented during the meeting that they had received an outpouring of public support for CCE in November and December 2020 from residents who hoped the city would meet a year-end CPUC deadline to join OCPA and get service starting in 2022.  Cities that join OCPA this year can begin receiving service in 2023.
Santa Ana Councilmembers said they hoped to meet with residents about CCE in the coming weeks.
The Council received emails and petition signatures from 151 residents and several organizations supporting CCE for the meeting.  Several residents who tried to make public comments via Zoom said they were unable to participate.