Lobbyist Patrick Strader Involved with Live Nation and USA Waterpolo Negotiations at Great Park
June 10, 2023, 9:11 pm America/Los_Angeles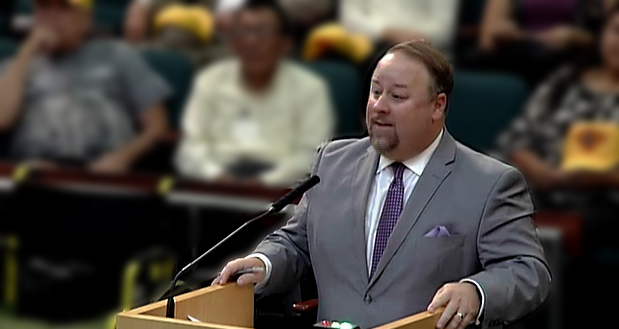 Why does Irvine City Councilmember Kathleen Treseder ask about Patrick Strader during public Council meetings? The casual observer may notice Treseder pepper City Manager Oliver Chi with that question when discussing the Great Park Live Nation Amphitheater and USA Water Polo aquatics facility projects. Chi's response is often short and uncomfortable. The reason Treseder asks is that Strader, a Starpointe Ventures lobbyist, has long been suspected of being integrally connected with high-profile projects at the Great Park.
On March 14, 2023, during a Great Park Board special meeting, Treseder explained that Strader is informally known as an unethical "sixth councilmember" in Irvine that has impacted local elections and exerted influence over certain unspecified councilmembers.
Although Chi tepidly affirmed Strader's involvement in negotiations, a recent Public Records Act request (PRA) proves Strader is included in exclusive meetings with the top powerbrokers at Live Nation and USA Water Polo. On February 17, 2023, Watchdog submitted a PRA for all written correspondence to and from Irvine Mayor Farrah Khan, Strader, Melahat Rafiei, and Chi since May 15, 2022. A 400+ page response came back on April 21, 2023, revealing a handful of interactions between Strader, Chi, and the leaders at Live Nation and USA Water Polo.
Above: Chi sending preliminary drafts of amphitheater scope and location for approval to the Live Nation Southern California President, Bret Gallagher, Strader, and seven others.  
Above: Chi setting a Zoom meeting to discuss USA Water Polo aquatic facilities with Strader and Christopher Ramsey, the CEO for USA Water Polo.
Above: Strader making an introduction to Chi.
Who is this "sixth council member"? Strader is the Chief Executive Officer and general counsel for Starpointe Ventures, a lobbying firm specializing in entitlement consulting. An entitlement is an authorization from cities to build homes, commercial buildings, or other developments, like a massive amphitheater or a swimming facility. Among Starpointe's many wealthy corporate clients are FivePoint Holdings, Live Nation, and USA Water Polo. Starpointe was founded by Patrick's father, Timothy L. Strader, who also represented the group of individuals that incorporated the City of Irvine. At the 50th anniversary symposium in Irvine City Hall, Timothy Strader spoke about the trial and tribulations in helping form the City. His discussion can be  viewed here starting at the 26:15 mark.
Patrick Strader, who reaped the benefits of what his father created, is also a founding board member of the Irvine Community Land Trust (ICLT) since 2006, where he presently sits. The ICLT was established by the City of Irvine dedicated to providing affordable housing opportunities to the community. As Watchdog  previously highlighted, there is an inherent conflict of interest in this arrangement. Watchdog volunteer, Joshua Moore wrote in 2021:
Private lobbyists should not be placed in positions of direct authority over public resources, nor should they be trusted with projects designed to advance the public welfare. Instead of the noble custodian of the public good…we have in Mr. Strader a registered agent of corporate special interests – a man whose sole objective is to maximize FivePoint's profits by directing City of Irvine policies.
Moore's concern came in response to a  dubious 2021 ICLT Board election for a new chair after former chair, Melissa Fox, resigned. A well-respected and experienced ICLT Board member, Michael Stockstill, was the acting chair and the frontrunner to step in as permanent chair. He earned a reputation for demanding more from developers, scrutinizing financials, and probing questions on projects in the interest of affordable housing. In a surprise move, Strader proposed newly appointed Board member, Anthony Kuo, and Farrah Khan quickly seconded the Motion. Kuo, who subsequently earned the reputation of being very pro developer, was elected chair.
But Strader was not finished. He wanted to remove Stockstill entirely and had complete support from Khan and Kuo in achieving this. Earlier in 2021, Stockstill expressed interest in a renewed term on the ICLT Board. At the time, there was little reason to doubt he would receive a renewed term on the Board based on his performance. However, on September 20, 2021, during a Board member appointment vote, Strader introduced a substitute motion to appoint Russell Felbob, and Khan seconded the Motion with Kuo also voting in support. Stockstill was voted out.
The connections between Strader and Irvine City Council are apparent. It has been  well documented that the Strader family (Father and brother also in leadership positions at Starpointe Ventures) have funded past political campaigns of City Council candidates. Furthermore, there is no known evidence that any Councilmember has ever recused themselves on agenda items relating to a Strader project. It's also no secret that large property developers, like The Irvine Company and FivePoint, wield outsized influence on City Council, including dark money and independent expenditures during election season.
Straders' footprints seem to be everywhere in Irvine. He has been linked to Irvine's participation in the Orange County Power Authority (OCPA), a clean energy program previously rife with questionable hiring practices,  scathing audits,  verbal abuse, and internal feuding. Reportedly, former Irvine elected officials have stated that OCPA embattled former CEO, Brian Probolsky, and his brother, Adam Probolsky, may have worked closely with Strader during elections. Renowned OC pundit and current LA Times Columnist, Gustavo Arrellano, described Adam Probolsky as a "GOP Hack". In 2020, Adam donated $10,000 to the Republican Party of Orange County PAC. On August 10, 2021, indicating a possible link between Strader and the Probolskys, Strader's spouse, Dana Strader, appeared in the public comment queue during an OCPA meeting. When her name was called, she provided no comment. Hear the audio here. Her mere presence was unusual given that, on paper, the Straders have no relationship or business with OCPA. Irvine Watchdog's public records request asking for the OCPA Zoom attendance logs to confirm Strader's attendance at OCPA meetings has not been responded to.

The City of Irvine has a checkered history when it comes to backroom dealings, ethical violations, and corruption among its electeds. Recently, some of these unsavory practices have spilled into the open for all to see.
For instance, Mayor Farrah Khan and Councilmember Tammy Kim's former campaign advisor and political kingmaker, Melahat Rafiei, recently pled guilty to attempted wire fraud in a bribery scheme that included previous City Council members. Despite this, Khan apparently interacted with and instructed Rafiei to set policy on her behalf with the city manager even as the FBI bribery investigation was made public.
Separately, Rafiei and Khan, according to City Councilwoman Kathleen Treseder, arranged for Brian Probolsky to maintain his position  in exchange for Khan being offered a nomination for the California Coastal Commission. Ultimately, she was never nominated.
Since the  infamous coffee shop photo of City Councilmember Mike Carroll, Khan, Patrick Strader, and Melehat Rafiei sitting around a table circulated online in 2019, subsequent events have only reaffirmed suspicions that these power brokers set policy in Irvine behind closed doors. Notably, Strader comes into sharper focus with the results from Irvine Watchdog's recent PRA request as it relates to the pending amphitheater and aquatics facility projects.
What's the current status of these two hotly contested multimillion-dollar projects? Live Nation Amphitheater and USA Water Polo aquatics facility, appear to be in limbo. The proposed amphitheater project will include a 14,000-seat outdoor venue located in the heart of the Great Park near residential homes. Operationally, it involves a 30-50 year management contract with Live Nation that gives Live Nation nearly all the profits. The terms of this arrangement, so far, are reported to be  exceedingly lopsided at the detriment of the City of Irvine. However, residents have pushed back on the venue size and terms of the deal. As a result, current plans are still under negotiation. However, under the current great park framework, the Amphitheater is being built under Phase 1. 
Similarly, the USA Water Polo aquatics facility was almost fast-tracked, pushing out many first-phase park features at the Great Park. Again, the public expressed dissent and convinced Council to  rethink its timeline and project size. This tug-o-war between Irvine residents and big corporate interests, advocated by Khan and Carroll, is still playing out. It's not clear where the 14,000-seat Live Nation project or the aquatics facility will land, but Strader is certainly trying to pull the levers of power to favor the powerful few at Live Nation and USA Water Polo.  
Fivepoint's new leadership under their new CEO decided not to renew Strader's contract. Patrick via Starpointe Ventures no longer represents FivePoint. However, it appears Strader is still working on behalf of Live Nation and USA Water Polo in bringing these projects to fruition on terms most favorable to their corporate goals and investors.
This article was edited after publishing for clarity and corrections.