Announcing Irvine City Council Forum Participants
September 25, 2018, 11:27 am America/Los_Angeles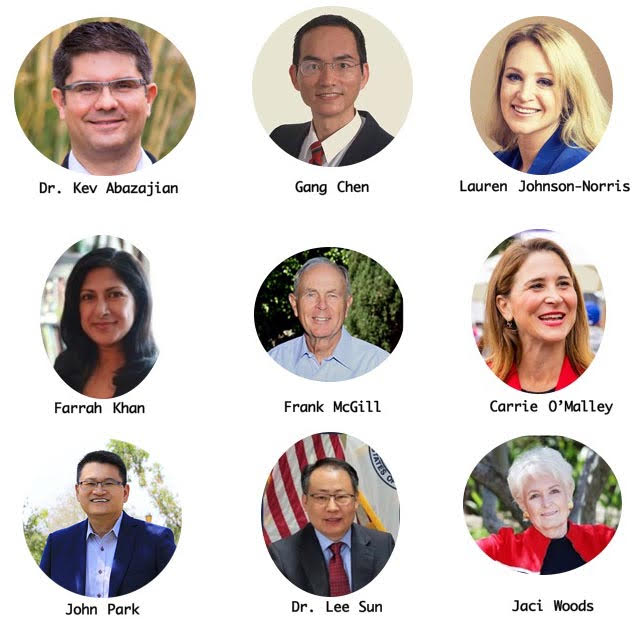 For Immediate Release
Irvine Watchdog
949-354-3192
IRVINE CITY COUNCIL FORUM PARTICIPANTS
[Irvine, California, 25 September 2018]  Irvine Watchdog is announcing the candidates that are participating in our Irvine City Council Candidate Forum.  Two City Council seats are up for grabs in the Council race with twelve people vying for the responsibility to represent Irvine residents. This Sunday, September 30th, voters will have the opportunity to hear from nine of those council candidates. Scheduled to participate are Kev Abazajian, Gang Chen, Lauren Johnson-Norris, Farrah Khan, Frank McGill, Carrie O'Malley, John Park, Lee Sun and Jaci Woods.
The City Council Candidate Forum is set for Sept. 30th in the Irvine High School Theatre, 4321 Walnut Ave.  A meet and greet will take place beginning at 4:15 and the forum from 5-7p.  The meet and greet will give people a chance to interact directly with the candidates including two from the mayoral race – Katherine Daigle and Ed Pope.  Irvine Watchdog a nonpartisan, volunteer group hosting the event, invited all of the mayoral and council candidates to attend.
Don't miss this opportunity to learn more about the City Council candidates, who will field questions on a range of voter issues. Thank you to our residents- who submitted over 100 questions to make this a true community event.  Submitted questions were selected and edited for brevity and common themes. To attend, sign up at www.Irvinewatchdog.org.  Seating is limited.