An Early Look at the 2022 Irvine Elections
July 18, 2022, 9:55 am America/Los_Angeles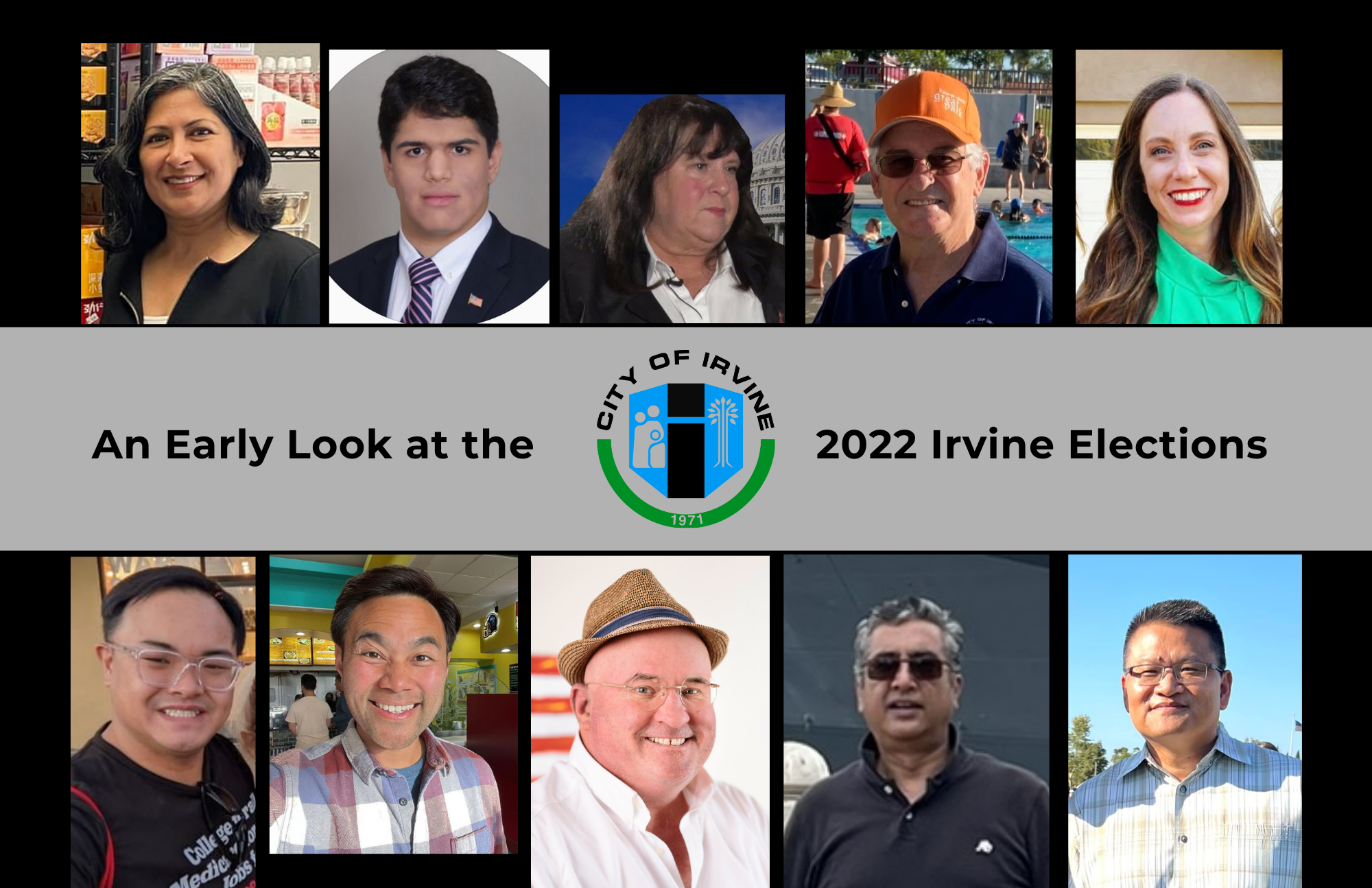 General Municipal Elections in the City of Irvine will be held on Tuesday, November 8, 2022, for the election of the Mayor and two members of the City Council. These positions are currently elected by Irvine citizens at large and are nonpartisan.
The Mayor serves a term of two years, while City Councilmembers each serve a term of four years. This year, Irvine residents will cast votes for the position of Mayor, currently held by Farrah Khan, and two City Council seats, currently held by Anthony Kuo and Larry Agran.
While the following candidates have already announced and some have been actively campaigning for some time, other candidates may still join the race since the candidate filing deadline is open from July 18, 2022, through August 12, 2022. Therefore, consider the information below to be preliminary and subject to change.
The current candidates for the office of Mayor are:
The current candidates for the City Council are:
Former Irvine Mayor, Christina Shea has announced in recent social media posts her intent to pull papers to run for City Council today, July 18th.
Irvine Unified School District
There is also an Irvine Unified School District (IUSD) School Board election scheduled for November 8, 2022. The filing period for School Board candidates also begins July 18, 2022, and ends August 12, 2022. In this year's election, the open seats are for Trustee Areas 2 and 4. The Incumbent in Trustee Area 2 (in green below) is Sharon Wallin, and the Incumbent in Area 4 (in blue below) is Ira Glasky.
Want to participate in the Irvine School Board meetings? IUSD School Board Meetings are typically scheduled on the first and third Tuesday of each month and start at 6:30 p.m.  Regular meetings are broadcast live on Cox Channel 39 and IUSD's live stream. In addition, board meeting agendas and past meeting videos can be accessed here.
Irvine Watchdog Election Coverage
The Irvine Watchdog will publish regular election updates as we have in the past. As a nonpartisan 501(c) 3 organization, we do not endorse, oppose, or support any candidate. We host a candidate's forum each election cycle where all ballot eligible candidates are invited to participate. This forum is recorded, and the candidate responses to resident-submitted questions are tabulated and reported on by Irvine Watchdog. More information on this year's event will be forthcoming.
As we have in the past, we will again track candidate campaign finance donations and the "dark money" funneled through various Political Action Committees (PACs) and Independent Expenditures (IE) in our local election. To help with this, we ask Irvine residents to send us pictures of direct mail they receive from candidates that include the PAC committee name or ID number.
[Read: Dark Money in Irvine Elections – Irvine Watchdog]
Stay tuned for more detailed election coverage as this year's election begins to heat up over the summer months.