Meet the Newest Member of the Irvine City Council – Dr. Kathleen Treseder
December 13, 2022, 9:02 pm America/Los_Angeles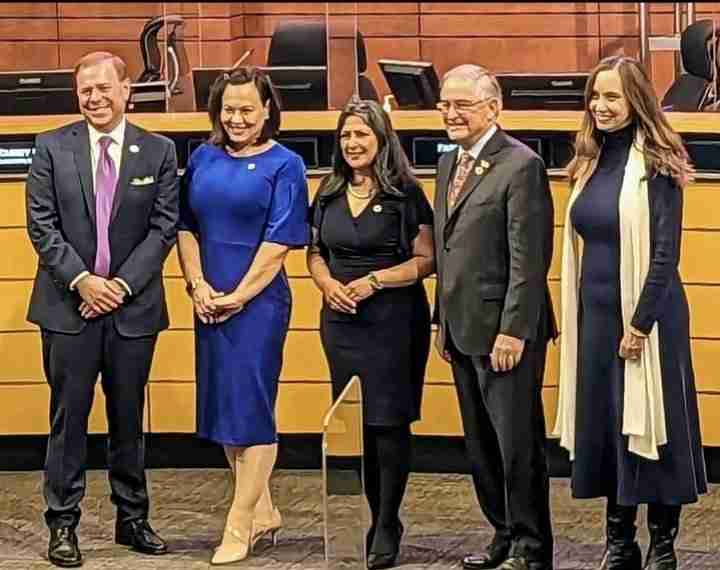 Dr. Kathleen Treseder, Irvine's newest city councilmember, was sworn in on Tuesday, December 13. 2022, alongside incumbent Mayor Farah Khan and long-time city councilmember Larry Agran. In the 2022 election, Treseder was the second-highest vote-getter for City Council, receiving 29,440 votes and 2,168 votes ahead of well-known third-place incumbent Anthony Kuo.
About Kathleen Treseder
Kathleen Treseder's campaign highlighted her role as a professor, climate leader, social rights advocate, and mom. Her accomplishments include "co-founding the grassroots group OC Clean Power and successfully advocating
for the Irvine City Council to establish renewable energy programs. As a professor, Kathleen has educated a generation of scientists and college graduates fighting for our climate. As a City of Irvine Green Ribbon Committee member, Kathleen has led the charge to reduce plastic litter and air pollution in the city."
Although new to politics, Treseder has a long list of personal and professional accomplishments. Dr. Treseder received her Ph.D. from Stanford University in Biological Sciences and is the Howard A. Schneiderman Endowed Chair and Professor of Biology at the University of California Irvine, where she has taught since 2003 in the Department of Ecology and Evolutionary Biology. 
In 2017, Treseder was Chair of her UCI department when she was made aware of students' accusations of sexual abuse and harassment by a male UCI professor. Treseder led an effort to convince UCI to ban the professor from campus and improve their treatment of sexual harassment victims. As a result, UCI paid Kathleen a significant settlement for the case.
According to her campaign, Treseder and her husband "used the UCI settlement to establish the Treseder Randerson Fund to support women and marginalized groups in Orange County. In addition, she partnered with the Crime Survivors Resource Center to found You Are Not Alone, a program to help sexual violence victims on local campuses. Their fund also supports refugees at our border, those in pandemic-related distress, Asian-American immigrants, and environmental justice."
Campaign Promises and Positions 
During her campaign, Treseder hit on many of the issues important to her and responded to questions on topics important to local residents. Here are a number of her stated positions: 
Climate and environmental issues – On her campaign website, Treseder committed to, "advocate for clean power with good-paying, long-term clean energy jobs. I will plan for a stable water supply even under future droughts. I will hold polluters accountable. We will have a city with clear air, clean water, a stable climate, and a well-paid skilled and trained workforce."
Treseder co-wrote the City of Irvine's  ACHIEVES Resolution for carbon net neutrality by 2030. The first in Orange County, her resolution includes recommendations for new buildings to be energy efficient and zero carbon. In addition, the resolution contains many aspirational goals for the city's environmental and climate objectives. 
On transportation, Treseder said at the Irvine Watchdog Candidate Forum, "Green Mass Transit [is a great option], Light Rail Transit is really wonderful [and] Irvine seems to be set up well for it…[it would] be better for the environment," 
When asked about the issue of the All American Asphalt Plant during the Associated Students UCI (ASUCI) forum, Treseder said, "We need to shut that down today… the current condition cannot stand. This is an environmental issue." At the Irvine Watchdog Forum, Treseder committed to "shut down the plant immediately through condemnation and move it, but make sure the workers are not harmed." 
The Great Park – On the concerns of local residents over development at the Great Park, Treseder said, "I think it is again about listening to the residents of the Great Park – center them. The developer FivePoints definitely has the ear of the council – the residents, I don't think they do."
When asked by Irvine Watchdog about her position on the Great Park Framework Plan, Treseder said, "I am not happy with this current Great Park Plan…it doesn't seem like the Great Park resident's voices have been heard on this… There are not enough retail centers there for the residents." In addition, she said, "I am concerned about the influence of FivePoint on the development of the Great Park…candidates are afraid to speak out against the FivePoint plan."
The Orange County Power Authority (OCPA) – In response to a questionnaire from the Voice of OC, Treseder said, "OC Power Authority must succeed for Irvine to meet its climate pledge. Unfortunately, I am concerned about its financial viability, lack of transparency, and inadequate leadership. As the agency's major financial backer, Irvine must insist on replacing the current CEO with an energy expert with experience in the industry and a clean ethics record."
In an interview with Irvine Watchdog, Treseder said, "I want better transparency, and I especially want OCPA to release their full check register. For some reason, they're leaving off their consultants, making me wonder who they are and why they aren't telling us about them…What I want in the future is for OCPA to be as transparent about who they're contracting with and have those contractors file conflicts of interest forms."
The veteran's cemetery and memorial park – At the Irvine Watchdog  forum, Treseder said, "I am in favor of a veterans cemetery at the ARDA site; also a veterans memorial park if it should go that way. That [citizens] initiative [to build at the ARDA site] is binding, as far as I can tell… I would like to find a way to put the cemetery in there, but likewise meets the needs of the surrounding community."
Affordable housing – "I would like to increase the standard quota of 15% of new developments going to affordable housing to 20% or more…I would like to build these [affordble] units in our business centers. That way, people can walk or bike to their jobs. There are so many people who should be in our community but are not because they are locked out by the high prices."
Treseder told the Voice of OC, "It is unconscionable that the people who feed us, keep us safe, teach us, take care of and love our children, build and repair our homes, and guard our health cannot afford to live in our community."
District elections – At the forum sponsored by ASUCI, Treseder said, "I am firmly in support of district elections. She explained that the current citywide election requires a lot of time, effort, and money to run as a candidate, which is a barrier to many candidates… I have been campaigning for two years now. That is not accessible to most people who have jobs where they don't have the flexibility for their time. They are not independently wealthy like some of the candidates might be."
Public safety – Treseder sits on the Crime Survivors Council of Orange County, which works hand in hand with local police officers. She aims to strengthen our police force in Irvine by increasing salaries and housing in the city for officers. "Right now, the [Irtvine Police Department] IPD is having a tough time recruiting new police officers… I'd like to offer workforce housing to police to solve this," Treseder said during the forum hosted by the South Chinese Cultural Center. 
Transparency and good government – "There is much room for improvement in transparency and accountability." At the ASUCI forum, Treseder referenced an alleged bribery scheme from several years ago connected to Melahat Rafiei and that after the FBI reported on the alleged plan to bribe members of the Irvine City Council, the "…council majority, I have heard nothing from them… are they not concerned that there is bribery potentially going on?"
Treseder told the Voice of OC on the issue of public participation at council meetings that, "All public commenters should be allowed a full three minutes to speak, as is standard for most California cities. Public comments should be allowed as each agenda item is discussed. Currently, speaking times can be shortened to 90 seconds, and comments are allowed only at the beginning of the meeting."
---
Support community journalism. Irvine Watchdog is a nonpartisan, nonprofit publication. Your support helps make articles like this possible.