Controversy Erupts Over Mayor Khan's Political Relationship with Armenian Genocide Denier [Opinion]
March 25, 2022, 11:47 am America/Los_Angeles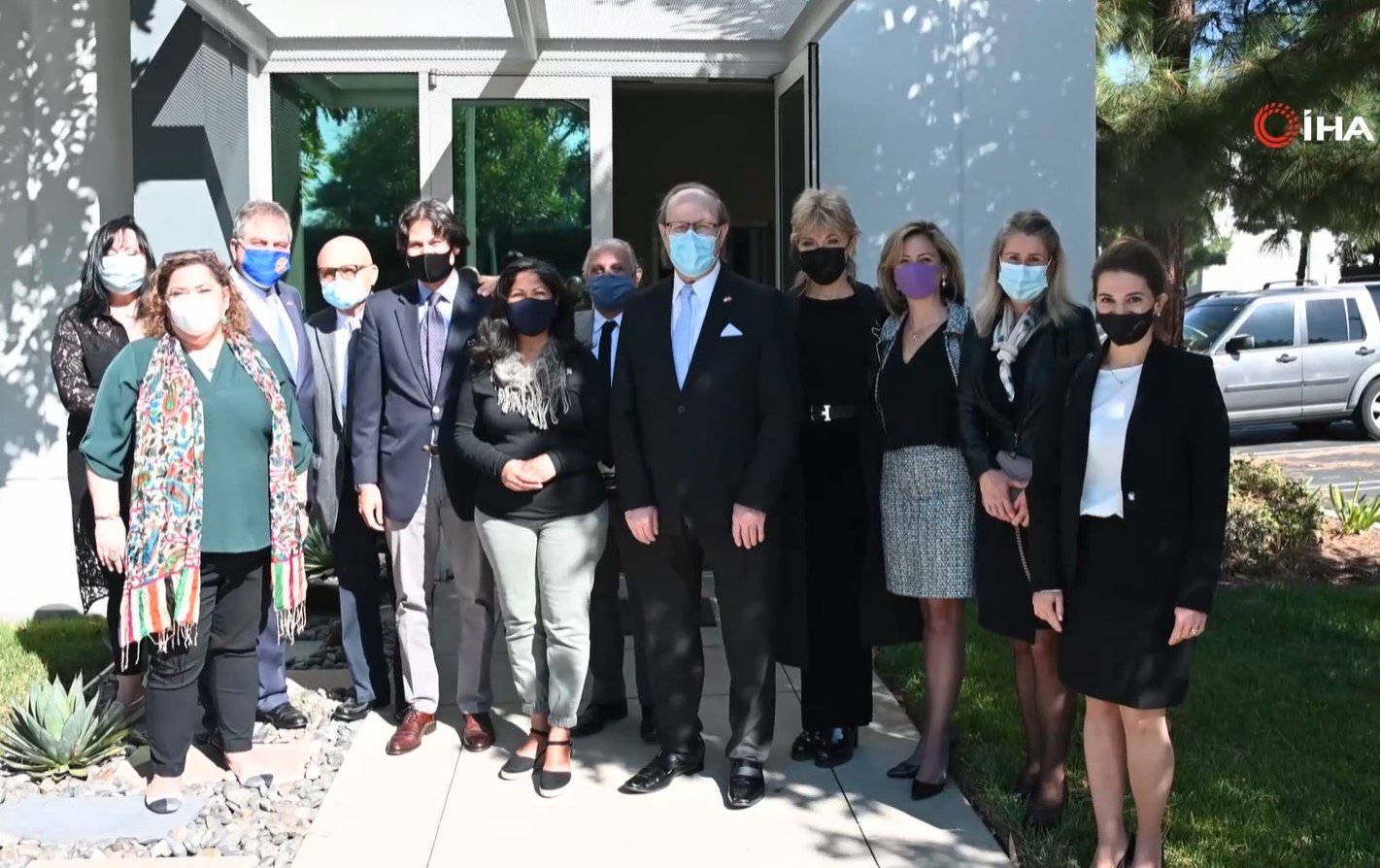 Social media has been buzzing surrounding a video being circulated online showing Irvine Mayor Khan apparently joking at an event with accused Armenian genocide denier Ergun Kirlikovali, about Armenians.
A Turkish website DailyMotion.com released a video where Mayor Farrah Khan met with Turkish leaders after winning her 2020 mayoral race. The caption and description from the website is translated from Turkish as the following: 
Khan, the first Muslim Mayor of the City of Irvine in the USA, Met with Turks
Farrah Khan, the first Muslim of Pakistani descent to be elected Mayor in the US city of Irvine, met with Turks who supported her in the elections. Farrah Khan of Pakistani origin in Irvine, California, USA, was elected the first Muslim mayor of the city. Farrah Khan came together with Turks who supported her in the elections after her success, which was a first in the state of California. The meeting hosted by businessmen Ergun and Juliana Kırlıkovalı was attended by Turkey's Los Angeles Consul General Can Oğuz, as well as Assoc. Dr. Ayça Altıntuğ, Orange County Turkish American School Principal Elif Yıldız Bulut and leading figures of the society in the business and social fields attended.
Congratulating Farrah, Consul General Oğuz stated that her success is a great development for Irvine and the region.
Khan, on the other hand, stated that she was criticized for visiting Azerbaijan during her campaign and for having close relations with the Turks, and that an official investigation is still ongoing. In response Khan said, "But you know, go ahead and do what you have to do."
Khan also said that communities living in the US need to know that when they need reassurance, someone is there for them.
Referring to the election process, Farrah stated that she and the other candidates had difficulties in reaching the voters due to the coronavirus epidemic, but she led the race starting from the first vote count, and this was very pleasing. Expressing that 136 thousand votes were cast in Irvine, Khan said that she received more than 56 thousand of these votes. 
"We accomplished a lot in this campaign," said Khan. Presents were presented to Farrah by the Turks at the meeting.
In the wake of a widely circulated short version of the video with subtitles, Mayor Khan released an initial video response claiming the video was an "incorrect translation" and the product of attacks by her political opponents. After mounting criticism, she released a second video, noticeably softer in tone and approach, apologizing to the Armenian community and stating that she is learning more about the Armenian genocide.
Presently, little is known about the depth and breadth of Khan's involvement with Kirlikovali and the group of supporters in the video. However, the Mayor has reportedly appointed Kirlikovali to the Mayor's Advisory Committee, and public records show that Kirlikovali has personally made political donations to Khan on multiple occasions. 
 On June 1, 2021, Kirlikovali donated to the maximum amount allowed for individual donations, $550, toward Khan's 2022 Mayoral campaign. 
Previously, Kirlikovali donated $500 on June 15, 2020, for the Mayor's 2020 campaign and an additional $500 to her concurrent 2022 city council reelection campaign (when Khan filed to enter the mayor race in 2020, she already had a committee for reelection to the city council). 
In total, Kirlikovali donated $1,550 in campaign contributions that are presently known. The question begs, why? Is there more money donated to her campaigns from other genocide deniers? Was Khan aware of Kirlikovali's position on the Armenian genocide? Will the Mayor return donations and cut ties to individuals and groups that promote hate against Armenians? Only time will tell if Khan provides more information on an issue impossible to ignore.  
To search for public records on local political donations, go here.
---
Disclaimer: The views and opinions expressed in this article are those of the author and do not necessarily represent the position of Irvine Watchdog or any of its volunteers. If you would like to submit an Opinion article, please review our guidelines and send it to us here.