Over a Year of Requests Later OCPA is Finally Agendized. Special Meeting June 14th [Opinion]
June 13, 2022, 11:31 am America/Los_Angeles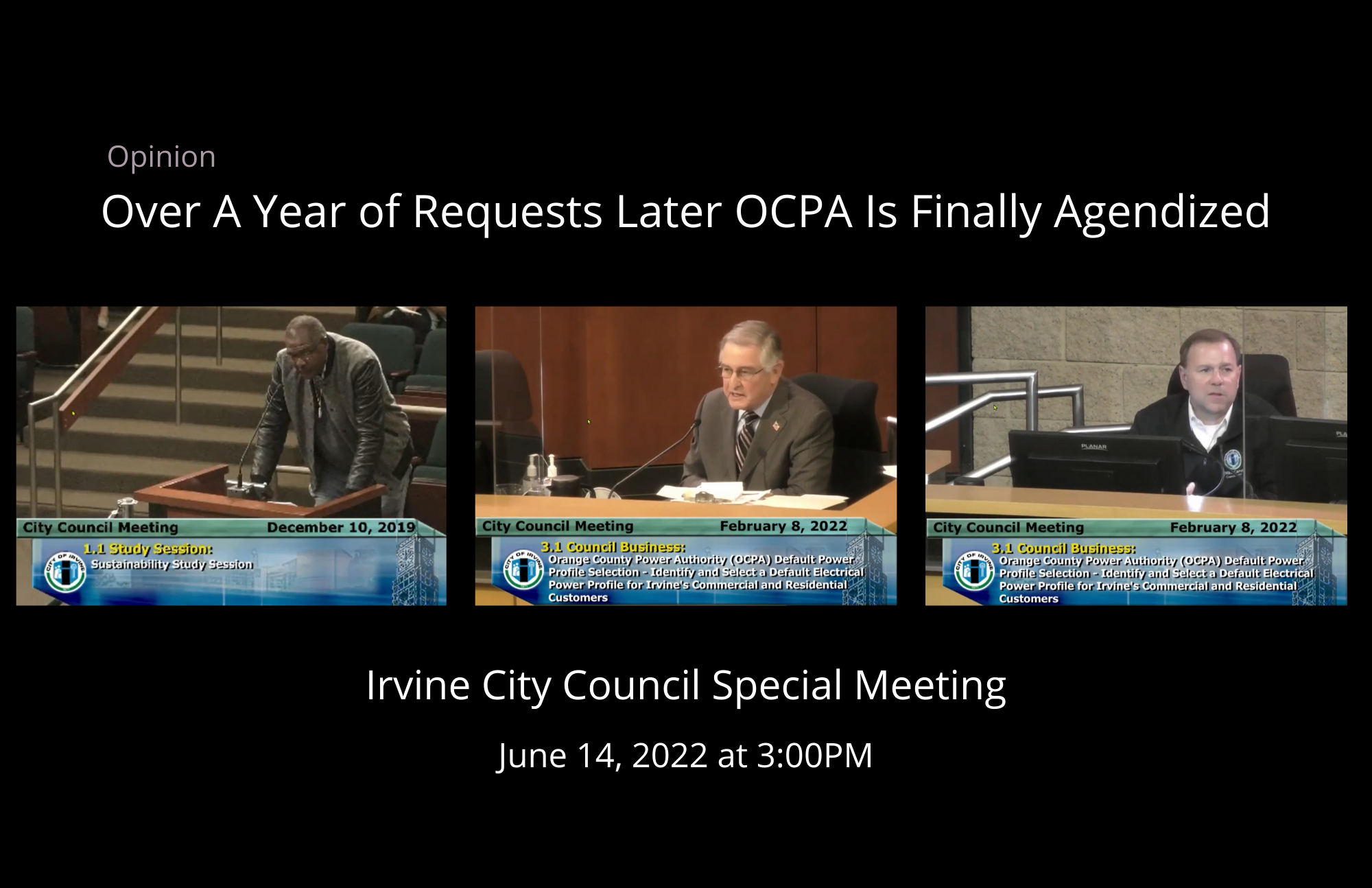 Finally, after over a year of requests from members of the public and Councilmember Larry Agran, the Irvine City Council will hold a Special Meeting on June 14 at 3:00PM regarding the highly controversial Orange County Power Authority (OCPA).
All Irvine residents will be automatically switched over from Southern California Edison (SCE) to the OCPA on October 1, 2022. Irvine's commercial customers were automatically switched over on April 1st.
According to the memo, the purpose of the special meeting is to:
Direct the City Manager to commence a City audit of the Orange County Power Authority, and
Assess the City's exposure to liability.
1.1

The memo also lists a number of important questions that were submitted in a public records request by Councilmember Larry Agran on March 24, that have remained unanswered:
The number of small, medium, and large commercial customers OCPA [started servingl on April 1, 2022.
The other account types OCPA is serving (e.9. residential customers) and the number of those customers OCPA is serving.
The source of business data OCPA used to assemble its customers.
OCPA's contingency plans in case more than 5% of residential customers and/or 10o/o of commercial customers opt out of its plans or opt "down" to the Basic Choice plan
Power Purchasing Agreements between Orange County Power Authority and other entities and the nature of those contracts, including the percentage that are medium-term (defined as 5 years or longer) v. long-term (defined as 10 years or longer)
Any and all reserve funds OCPA has created to address contingencies and other risk factors
Additionally, Irvine Watchdog has submitted numerous public records requests that have gone unanswered:
How many applicants were considered for the position of Chief Executive Officer?
Who is in charge of overseeing the [email protected] inbox?
Who is in charge of making sure public records requests are responded to pursuant to the California Public Records Act?
Who was in charge of making sure meeting videos were being recorded and shared?
A request for all Zoom attendance logs.
For an agency that has received over $7.7 million for startup costs from Irvine taxpayers, the complete silence and lack of information from the OCPA is unacceptable if not downright alarming. The City of Irvine should have been receiving quarterly updates; not a single one has been provided thus far. Furthermore, City Council refusal to agendize this matter, despite persistent requests by Councilmember Agran, has been a major point of concern.
Background 
In 2019, at the direction of the Irvine City Council, EES Consulting completed a comprehensive analysis of the feasibility (including costs and benefits) for a Community Choice Energy (CCE) program in Irvine.  The City of Irvine received the EES Consulting Feasibility Study in June 2019 that cost Irvine taxpayers over $180,000.
Among the study's crucial conclusions was the projection that a CCE in Irvine would:
Lower costs by 0.5-2% lower electricity rates
Result in $1.9-$7.7M in city-wide cost savings
Bring in revenue of around $8M
Provide community benefits
Provide 85 new jobs
However, many of the predictions have not held true. The rates are higher, the energy purchased and being sold is not cleaner, and the agency has been riddled with transparency concerns, often working against the community.
December 10, 2019 Special Meeting
On December 10, 2019, then-Councilmember Farrah Khan requested a Special Meeting for a sustainability study session. The study session directed staff to secure the interest of CCE as a Joint Powers Authority (JPA) with partner cities in Orange County and form a feasibility study.  Moreover, staff was directed to authorize Mayor Christina Shea to send a letter to all cities in Orange County informing them of the action taken by the City Council to move forward with the formation of a JPA.
Over 31 people spoke in support of Community Choice Energy at the December 2019 meeting, including energy expert William Von Blasingame who currently serves on the Green Ribbon Environmental Committee. Listen to Mr. Blasingame's clairvoyant comment which has been transcribed below. The Irvine City Council would've been wise to listen to Mr. Blasingame's expert advice and warnings.
William Von Blasingame's Advice and Warnings
"Thank you very much, members of the city council, Mayor. As you know, I'm from the electric generation industry. I spent 20 years, 10 years overseas — I work with Edison International, as Senior Vice President. So I just appreciate all the work that's gone in and consultants."
"I think it's very important that the city get very experienced managers — if you go forward with this — that you hire experienced people to work on this JPA that have been in this industry. You're getting into the long term electric generation planning business. You're going to have great relations from the PUC [Public Utilities Commission], you're going to have to present a plan every year. And it's imperative that you have internal knowledge, not consultants. There's a 2% profit margin in this business. It really doesn't allow for you to pay for a lot of ongoing consulting costs. And I think if the city does move forward, it's imperative that, as a personnel matter, that the city hire very competent and experienced people in this industry to manage this investment."
"I can tell you from my own experience, I've seen us lose $10 million in one day on an energy bet and make $10 million in one day. So this is a very volatile business. It changes by the minute, is 24 hours a day. If there's an earthquake in electricity supplies are disrupted, you have to have experienced people to manage this. So I think the management of this asset is critical to the success for the city. And I appreciate your time. Thank you."
Fast-forward to the February 8, 2022 Irvine City Council meeting where Irvine had to select a default electronic power profile for its commercial and residential customers. This was Irvine's first opportunity to ask OCPA staff any questions during a public hearing. At this meeting, Councilmember Larry Agran asked several important questions that echoed Mr. Blasingame's comments from 2019. Listen to Councilmember Agran's comments or read transcription below.
Councilmember Larry Agran's Questions and Remarks
"Thank you, Mayor. I appreciate the testimony we've had from folks, the opportunity to begin to understand better the changes that lie ahead here. There are a number of continuing questions that I have, that I think are probably best put in writing by me, shared with my colleagues here on the Council, and directed to the City Manager, so that the questions that I have and others have can continue to be answered as we go forward."
"The promise, if you recall, was that with the Orange County Power Authority we were going to get cleaner electricity at a cheaper price as compared with SCE. It remains to be seen if there can be delivery on that, certainly not in the short term, but even over the longer term. And I appreciate all the positivity about 100%, we're all on board 100%. But again, getting from here to there, saying it is one thing, actually getting it done is another."
"Does OCPA have the capacity and the competence and the personnel to do it? I hope so, I hope so. But I want us to be watching here, all along the way. Because no other city has any money in this, just the City of Irvine. We've got $7.7 million already into this. And I see from the report this morning that apparently OCPA only has $6 million of its initial $35 million budget left from the line of credit, we had to put up the collateral for that. And most of that money has been spent on buying electricity."
"Now, I'm smart enough about this stuff to know, this is an extremely risky business, purchasing and reselling electricity. And it has to be monitored, in my view, minute by minute, because somebody's got to start asking the question, "Well, what happens if this enterprise falters or fails? Who is going to be stuck with the bill? How much is that going to be?" And when the price of stumbling or faltering, failing before launch, is a lot less than the price of failure after launch. Once the rocket is launched, the price is enormous. If indeed there's failure."
"And I think we owe it to ourselves, we certainly owe it to the taxpayers and ratepayers of this city — we owe it to them to be able to imagine a worst case scenario. Not predicted, not wish for it, but be able to imagine it. Certainly if that had been done in the 1990s when another Council was deciding to pour all the city's money into the Orange County investment pool without imagining the worst that could happen, we would have avoided that bankruptcy that cost this City in those dollars, about $30 million in today's dollars, about $50 million."
"So with this, Mayor, I'm going to be, I think if there's a motion in front of us, I'm going to be voting for it. But I am going to be circulating questions to my colleagues, to Mr. Chi as well, and see if see if we can get answers and chart a positive course while avoiding a worst case scenario."
Councilmember Mike Carroll responded with the following while dismissing all of the questions posed by Councilmember Agran:
Councilmember Mike Carroll's Response to Councilmember Agran
"Yeah, I wasn't going to speak. But I think we have to counter some of that. And it's important to know that we have all these advocates here and supporters of Mr. Agran over many years. So I'll just say a few things for the record and for the video. The first thing Councilmember Agran, if it's too risky, if you're worried about the imminent failure of the Orange County Power Authority, I would never normally do this but I urge you to vote no. We will carry this 4-1 without you and you will be on record as voting against 100% renewable power as the default option for the Orange County Power Authority and for the City of Irvine."
"I will happily be voting yes, as I seconded the motion. As I've told the advocates, I've told the business community, I've told the residents, my neighbors, my friends, and the people that I've worked with for a long time on this."
"Tiffany Law, I didn't mean to put you on the spot but could you just stand up for one moment? We'll give Councilmember Agran and some of his supporters a little bit of a benefit. The person standing before you in the audience, that her name is Tiffany Law. She's the Chief Financial Officer of the Orange County Power Authority. She has decades of financial experience. In addition to decades of financial experience, she was employee number one at a Community Choice Aggregation entity which is now called Three CEE, which was previously called Peninsula Energy. And we are very fortunate to have Tiffany because in addition to being employee number one, and being one of the core startup members of one of the most successful and largest Community Choice Aggregation entities in the United States, and of course, the State of California, was also instrumental in reaching the first ingress investment grade bond offering of any CCA in the state or in the country. That is the person before you. That is the person with incredible amounts of experience. Thank you, Tiffany, I apologize for putting you on the spot."
"With regard to just a little more of the thank you's, I mean, I have a list of 100 names I would read but you know, more than 100 that emailed us and contacted us and called us, I'd just like to single out Linda Kramer of Climate Reality Project, Orange County, and of course, Margo and Michelle Ellison of Green by Default. I think this has been an incredible road and you've really helped us pave the way here as a Council. So please don't be discouraged by some of the silly talk by someone who tried to start this 15 years ago and failed. This is a reality. This is a Community Choice Aggregation entity that's run by actual professionals, with dare I say a competent Board, led by the Mayor [Farrah Khan] and myself and some of the great council members of the cities of Buena Park, Fullerton in Huntington Beach, we are on the track for success, all the stuff about the money the council member doesn't really know what he's talking about."
"We have a $35 million line of credit that is partially drawn, I guess Tiffany can tell us but it's largely still available. We're going to be operating with success. We're going to be launching with great success, we will be the greenest thing. Hopefully if we make this vote tonight successfully, it may go for one unfortunately, but then we'll have that council member on record as voting against 100% renewable and that'll be his choice. And I'm just really grateful to everyone that's really turned my journey that began really not really supportive of this at all, to having the honor to chair the board and help navigate in some small way the success of this amazing enterprise. So thank you very much."
It's important to note, the only individual Councilmember Carroll mentioned was CFO Tiffany Law. That is because, since the abrupt resignation of COO Antonia Castro-Graham, Ms. Law is the only one with any relevant experience. But that did not stop Mayor Farrah Khan and Councilmember Mike Carroll from touting the highly qualified leadership at the OCPA, while protecting and covering up for CEO Brian Probolsky who is, without a doubt, unqualified.
At the February 2022 meeting, Carroll made no mention of Probolsky. The appointment of Brian Probolsky as CEO went against the wisdom and expert advice of Mr. Blasingame who stated it is imperative that the city hire "very competent and experienced people in the industry." Probolsky, who does not even hold an undergraduate degree, also had no experience in the energy industry prior to being appointed CEO of the OCPA, in stark contrast to CEOs of every other comparable CCE.