Great Park Board Meeting – State Veterans Cemetery & Natural History Museum
March 28, 2019, 2:35 pm America/Los_Angeles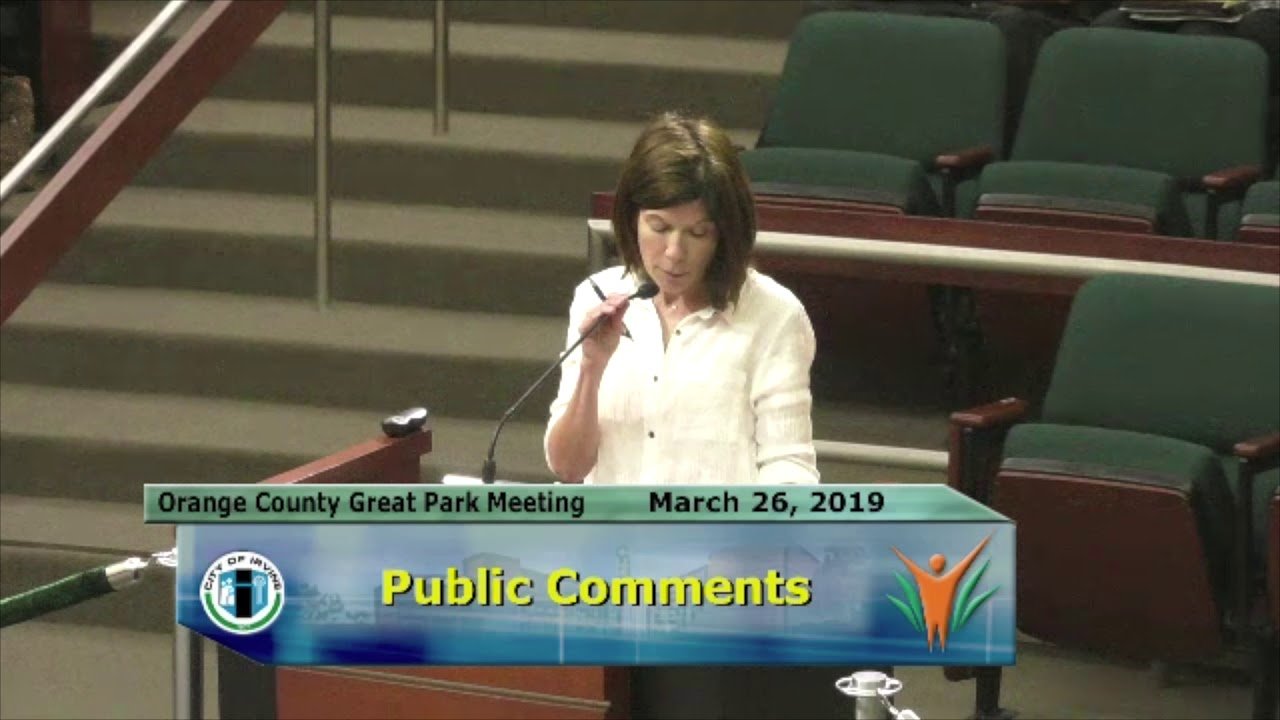 Directors Present:
Mayor Wagner
Councilmember Shea
Councilmember Fox
Councilmember Khan
Councilmember Kuo
Does anybody know what the plans are for the Great Park?
Do you feel there's a lack of community involvement?
Jeanne Baran talks about the lack of transparency in the planning & design of the Great Park:
At the 3/26 Great Park Board Meeting, Executive Director John Russo gave an update about his recent trip to Washington, D.C. Mr. Russo went with Mayor Wagner and Deputy City Manager Michelle Grettenberg. Subjects touched upon in his report:
State Veterans Cemetery
The FAA navigation beacon that is still in operation at the Great Park:
1) Can it be decommissioned?
2) What are the allowable land use options around it?
How big does the cemetery have to be to best serve our veterans?
The city can ask the State for a trust fund to help ongoing operations for the State Veterans Cemetery.

Mayor Wagner emphasized the Federal Veterans Cemetery Grants Program does not want the City to give them a Superfund site but a clean site.
A site has yet to be determined in Irvine for the cemetery.
The American Museum of Natural History "West"
City leaders met with the museum honchos back in November 2018 and January 2019.  This third meeting was in Washington, D.C. with members of the Smithsonian. The Museum commissioned a feasibility study. They are still interested in Irvine. On June 2019, we will get the results of this study and see if it's a go or no-go.
Coming Up:
April 2019 – Executive Director John Russo will be at the State Capitol to talk with CalVets about the cemetery.
May 28, 2019 – Great Park Board of Directors will receive a Comprehensive Status Report on the State Veterans Cemetery at the May Great Park Board meeting.
To watch the entire 3/26/19 Supplemental Agenda Special Meeting CLICK HERE.
The next Great Park Board meeting is April 23, 2019.