Op-Ed: Protect the Irvine Village Concept in Neighborhoods Near Great Park
September 30, 2019, 8:54 am America/Los_Angeles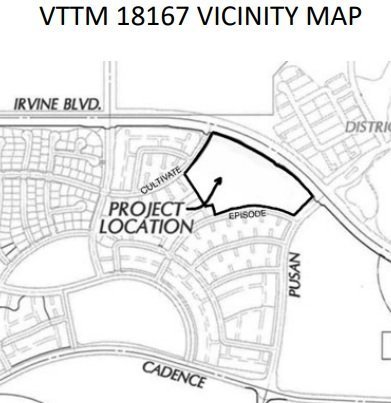 New neighborhoods near the northern edge of the Great Park lack village-style shopping nearby. To date, the developers have not implemented the "Irvine Village" system – in which housing, parks, schools, and shopping are all within a village. The City has a brief window of time to step in and require plans for the area to be redrawn, before the village concept becomes a quaint relic of Irvine's past.
The issue is likely to come up indirectly at the Planning Commission meeting on October 3, 2019, 5:30 pm at City Hall. The Commission is asked to approve "an athletic lifestyle resort" along Irvine Boulevard, instead of a village shopping center the area desperately needs.
CUPLifeTime

The Irvine Village System
Irvine was designed with a village structure in mind. The city would have multiple villages. Each village would have housing, parks, schools, and shopping. People who lived in other villages could shop in a different village. But for everyday things like groceries, sundries, pharmacy, and the like, a resident could shop within their village. ( "Irvine functions as a collection of villages each with its own shopping center so residents need not travel far for groceries or basic services.", Exploring Land Use Changes in the City of Irvine's Master Plan, USC Masters Thesis of Julia Lynn Goldsworth, p. 4)
This structure has been lauded internationally since at least the 1970's. Many feel the villages are the fundamental residential building blocks of the City.
My Shopping Trip From Great Park Neighborhoods 
Neighborhoods near the Great Park enjoy an enviable location, near extensive sports fields, a world-class ice skating/hockey facility, year-round events and, eventually, a beautiful park and cultural terrace.  They feed into the best-in-the-nation public schools of Irvine Unified School District. They have the same 281 sunny days per year and moderate climate as the rest of Irvine.
But at least some of the new neighborhoods don't appear to follow the village system. My friends who live in newer communities in or near Great Park Neighborhoods, especially those near Irvine Boulevard, report they feel there is no village-style shopping. Instead, they go outside of the area to shop and tell me it can be an ordeal.
To test these reports, I took a trip last weekend to personally experience day-to-day level shopping from a Great Park Neighborhood. I started in a neighborhood still under construction along Irvine Boulevard. My GPS reported a couple of options for shopping. I could travel to Woodbury Town Center to the Northwest, or drive into the city of Lake Forest, among others.
I choose Woodbury which the GPS indicated was 2.3 miles away. At first glance, this seemed like a reasonable distance. But I was in for a disappointing surprise.
Irvine Boulevard in that area has four (4) lanes in one direction, and three (3) in the other, for a total of seven (7) lanes. The Boulevard at that point was a high capacity road with a significant volume of cars. Something like a highway. Driving along it was a bit stressful.
Turning into Woodbury Town Center, I noted it was a large shopping center with big box stores. There is a Home Depot, Michaels, and others. Also groceries, a drug store, restaurants and the like. The parking area in the center seemed enormous. Walking from the parking to the grocery store was a long hike, and there were many driving cars to avoid.
After finally finishing, I drove back along Irvine Boulevard to the starting point. I felt a bit frazzled. This was not the low-key, low stress shopping we're accustomed to in our village area. I note other villages have relatively low-stress, convenient village shopping. A few examples are Woodbridge, Quail Hill, Los Olivos, Northwood, among several others.
Build a Village-Level Shopping Center, and Soon
My impression is that the new neighborhoods near Irvine Boulevard, including but not limited to large portions of Great Park Neighborhoods, need at least one village-style shopping center. This would be a smaller shopping center that would include a grocery store, a drug store (e.g. CVS, RiteAid, a small Target), dining options, perhaps a gym and other stores. Like some other shopping centers in Irvine, this village-style shopping center should include relaxing spaces with tables, chairs and grassy areas to serve as a village gathering place.
While I feel a single small to medium sized shopping center is unlikely to be enough to bring a traditional "Irvine Village Feel" to the new neighborhoods, at a minimum it would improve daily life for thousands of people. Also, there is considerable new construction, with housing for thousands of people slated for construction extending generally adjacent to Portola High School. I am not aware of a shopping center planned for those folks, who may otherwise need to shop in Lake Forest, depriving Irvine of tax revenue.
Applicant Should Withdraw Zoning Request and Instead Submit Plan for a Village Shopping Center
Turning now to Item 4.3 on the Planning Commission Agenda, many fitness facilities in Irvine are part of a shopping center. One example is the LA Fitness at the Crossroads shopping center, which includes a Target (which sells groceries), restaurants, and numerous other stores. There is another LA Fitness at 3021 Michelson near Jamboree and the 405. That fitness center is in a center that includes Mothers Market, restaurants, and other stores. Other examples in Irvine are plentiful.
Applicant here wishes to have a single luxury "athletic resort" along Irvine Boulevard. The parcel of land is near the northern portion of the "ARDA" property, which members of the Council have suggested be zoned for light retail. (My understanding from city staff is that the rest of ARDA may be zoned for something akin to park land).
Typically, fitness facilities and dining halls at shopping centers attract customers who then shop in adjacent retail stores. Without a gym or dining hall in the shopping center, retail revenue suffers. By building the more profitable gym in a stand-alone fashion, will the master developer of Great Park Neighborhoods draw customers away from the less profitable light retail shopping center on City land? Should a fitness center and/or dining hall be part of the proposed retail center instead?  The City needs to develop a carefully-considered business plan for the area to increase the odds that the retail center on City land will be financially viable.
I urge the Planning Commission to reject the zoning request for this single fitness facility, and instead instruct City staff to collaborate with the Applicant to develop a comprehensive plan for commercial space in the area. The plan will include a financially sound, village-level shopping center.
---
Disclaimer: The views and opinions expressed in this article are those of the author and do not necessarily reflect the opinions of Irvine Watchdog or its volunteers. Irvine Watchdog welcomes all views, thoughts, and opinions expressed by Irvine residents and welcomes their posts for the Opinion section. We want to hear from you! If you would like to submit an Op-Ed, please review our guidelines and send it to us HERE.