Christina Shea and Mike Carroll Lead in Developer-Funded PAC Contributions
November 3, 2020, 8:22 am America/Los_Angeles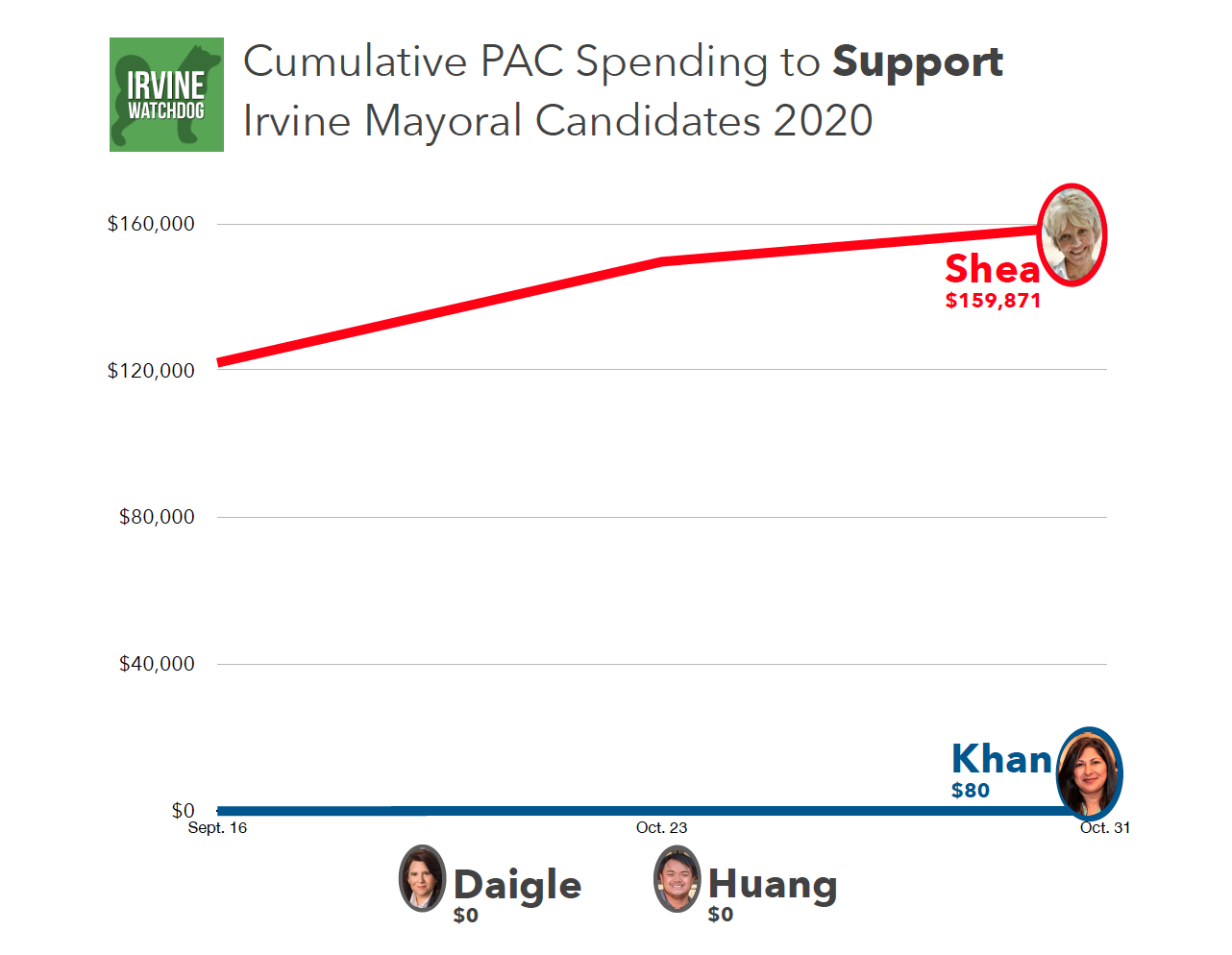 Independent Expenditures from September 21 – October 31, 2020
The charts below show the total amount of independent expenditure contributions supporting or opposing individual candidates from September 21 through October 31, 2020. Irvine Watchdog will provide ongoing updates on campaign contributions in the 2020 election. For more, see IrvineWatchdog.org/election-2020/
An independent expenditure (IE) is an expense for a political communication (ie: mailer, social media ad, lawn signs, commercials) made by a political action committee (PAC) that urges voters to support or oppose a particular candidate. The PACs who are paying for the communications are not allowed by law to work in coordination with any candidate or their campaign committees. Independent expenditure reports are filed on a rolling basis with the City Clerk's office.
Who is Funding These Political Action Committees?
According to the Voice of OC, "Developers Five Point Communities and The Irvine Co. continue to be the dominant spenders in Irvine elections, pumping over $400,000 dollars into groups supporting candidates Mike Carroll, Christina Shea and John Park, and opposing Larry Agran and Tammy Kim." Voice of OC | Gerda
We will not know the total amount of IEs spent until after the election. A number of PACs fail to file the required paperwork every election.
PAC Names Are Intentionally Misleading
Political Action Committees use public interest sounding names but they are not what they seem. "Voters across the city have been receiving mailers from a PAC called the Greater Irvine Education Guide – the single biggest spender on ads in the election. That PAC is, in turn, funded by at least $78,000 from groups that themselves are largely funded by Five Point and The Irvine Co, according to public campaign finance records. Voice of OC | Gerda
To learn about how to track independent expenditures and more on dark money in Irvine elections, read Dark Money in Irvine Elections.
Graphs Track Filings from September 21 – October 31, 2020
The graphs below capture all the independent expenditure filings found on The City of Irvine Campaign Statement Public Portal between 9/21/20 – 10/31/20. The graphs below do not include candidates who have not been supported or opposed by PAC money: Katherine Daigle, Luis Huang, Laura Bratton, Christina Dillard, Anshul Garg, Dylan Green, Diana Jiang, Hai Liang, Mark Newgent, Abigail Pole.
Click here for a PDF of the graphs below.
Source:The City of Irvine Campaign Statement Public Portal for filings between 9/21/20 – 10/31/20.